Reclaiming the Sand by A. Meredith Walters
Reclaiming the Sand, #1
published on March 17th 2014
new adult | romance | contamporary
find the book on
Goodreads
Ellie McCallum was a bully. No connection to anyone or anything. A sad and lonely existence for a young woman who had come to expect nothing more for herself. Her only happiness coming from making others miserable.
Particularly Freaky Flynn.
Flynn Hendrick lived a life completely disconnected even as he struggled to become something more than that boy with Asperger's. He was taunted and teased, bearing the brunt of systematic and calculated cruelty, ultimately culminating in a catastrophic turn of events that brought Ellie and Flynn's worlds crashing down.
But then Flynn and Ellie grew up. And moved on. Until years later when their paths unexpectedly cross again and the bully and the freak are face to face once more.
–
THIS STORY. I don't know how to properly describe how much I ABSOLUTELY ADORED IT and COMPLETELY HATED IT all at the same time. It is a romance between the bully and the one who has been bullied. It is a book full of angst, anger, regret, forgiveness, love and change.
This book was more than just your average romance–it was also a book about one who's learning to be stronger for himself and others, and another who wants to become a better person for the one she loves.
Ellie's a fucking bitch, and I could not for the life of me understand some of the shit she did to Flynn, but I loved how much she was willing to change for him. How she pushed her old life away to show him that  she cares.
As an avid romance reader, I can tell you that I love myself a fabulous story with angst. And boy did this book have it. But it fit gorgeously in the story of these two polar opposites who were drawn together by some unknown pull, and I loved it.
Recommended for: Anyone looking for a new adult romance that will make you cry your eyeballs out.
Not recommended for: Sensitive readers who might not be okay with bullying (and pregnant woman who drink and go to bars…).
4 stars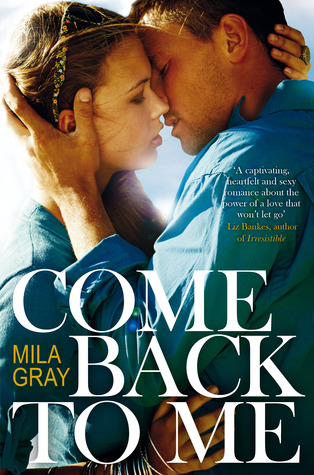 Come Back to Me by Mila Gray (Sarah Alderson)
published on June 19th 2014 by Pan Macmillan
new adult | romance | contamporary
find the book on
Goodreads
Home on leave in sunny California, Marine and local lothario Kit Ryan finds himself dangerously drawn to his best friend's sister, Jessa – the one girl he can't have.
But Kit's not about to let a few obstacles stand in his way and soon Jessa's falling for his irresistible charms.
What starts out as a summer romance of secret hook-ups and magical first times quickly develops into a passionate love affair that turns both their worlds upside down.
When summer's over and it's time for Kit to redeploy, neither Kit nor Jessa are ready to say goodbye. Jessa's finally following her dreams and Kit's discovered there's someone he'd sacrifice everything for.
Jessa's prepared to wait for Kit no matter what. But when something more than distance and time rips them apart they're forced to decide whether what they have is really worth fighting for.
A breathtaking, scorchingly hot story about love, friendship, family and finding your way back from the edge of heartbreak.
I'm feeling like I'm a bit of a black sheep with this one. I wanted to love it so much to the point that I felt like I was forcing myself to cry and to feel and in the end, I still can't say that I enjoyed this book.
Sure, Kit was really sweet and he knew how to make a girl swoon, but ultimately, I think he made some very stupid decisions and that he was a bad influence on Jessa. Like that one time he pushed her to skip school… Why the hell would you do that?
I also felt like the romance was too sudden. I get that they've been attracted to each other for forever, but Kit's "I really like you" confession came out of nowhere and I don't really know what triggered it.
The person that saved the story for me was Riley, Jessa's brother. He was sweet and loving and I adored him, which is why I would totally prefer to read his story than Jessa's. You know you don't like a book when you'd rather read the side character's story instead.
2 stars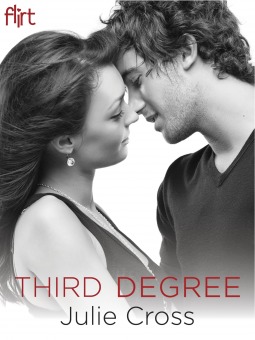 Third Degree by Julie Cross
published on March 25th 2014 by Flirt
new adult | romance | contamporary
find the book on
Goodreads
I used to be "Isabel Jenkins, child prodigy." As lame as that sounds, at least it was an identity. But now I'm not sure what I am. I just failed the most important exam of my life—the emotional readiness test required to get into a medical residency program—and it turns out my parents can't stand each other. Now I'm trying to figure out how to pick up the pieces of my life, and that means re-enrolling as a college freshman, but this time I'm shutting the books and majoring in being eighteen.
But so far, my roommate hates me and I'm not into the party scene. The only good thing about school has been getting to know my insanely hot RA. Marshall Collins makes me wonder about everything I missed while I was growing up too fast. Pretty soon we're hanging out constantly, but for the first time, I find myself wanting more than a no-strings-attached physical relationship. And the lesson I really need is one Marsh definitely can't teach me: love. Because I'm going to be alone forever if I don't learn fast.
Julie Cross' contemporary romances have become auto-reads for me after her glorious piece that was Whatever Life Throws at You.
Third Degree was another cute, funny (like seriously, Isabel would totally be my super-genius best friend in real life) and definitely swoony read from Julie.
That being said, I wasn't able to connect with the characters too much in this one. Maybe it was because Isabel was over-the-top intelligent or something else entirely, but for some reason I wasn't able to form a deeper connection with her.
Marshall was sweet and he tried his best to keep up with Isabel and to help her get out of her comfort zone. He also had a troublesome problem himself, and Isabel was there for him in return.
Medical terms were slightly confusing and I had to use the dictionary a couple of times while reading, but other than that, this was a quick, fun read for anyone who needs a good book on a rainy day.
3 stars
…
About Aimee

Aimee loves being a little bookworm (okay–she doesn't like being
little
). She also loves chocolates and sweets but is freaked out by the thought of possibly getting diabetes.
Goodreads
 |
Twitter
 |
Instagram
| 
all of Aimee's posts →