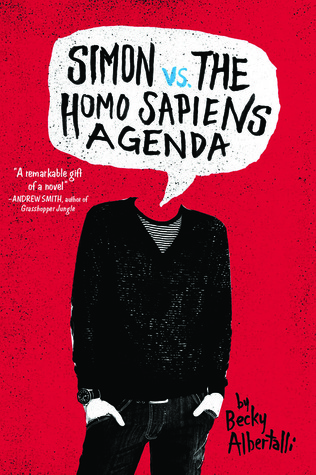 Simon vs. the Homo Sapiens Agenda by Becky Albertalli
published on April 7th 2015 by Balzer + Bray
young adult | romance | contamporary | lgbtq
find the book on
Goodreads
Sixteen-year-old and not-so-openly gay Simon Spier prefers to save his drama for the school musical. But when an email falls into the wrong hands, his secret is at risk of being thrust into the spotlight. Now Simon is actually being blackmailed: if he doesn't play wingman for class clown Martin, his sexual identity will become everyone's business. Worse, the privacy of Blue, the pen name of the boy he's been emailing, will be compromised.
With some messy dynamics emerging in his once tight-knit group of friends, and his email correspondence with Blue growing more flirtatious every day, Simon's junior year has suddenly gotten all kinds of complicated. Now, change-averse Simon has to find a way to step out of his comfort zone before he's pushed out—without alienating his friends, compromising himself, or fumbling a shot at happiness with the most confusing, adorable guy he's never met.
–
FOR THE LOVE OF OREOS (which I'm eating right now), READ THIS BOOK NOW.
"But I'm tired of coming out. All I ever do is come out. I try not to change, but I keep changing, in all these tiny ways. And every freaking time, I have to reintroduce myself to the universe all over again."
Guys, Simon is just the most honest, realistic, clever, hilarious and adorable character you'll ever come across. He's a sassy gay teenager with perfect grammar and all the wit in the world–oh how I wish Simon was real and that we could be best friends. He may not have been the most amazing friend or family member all the time, but that just made him flawed and more real. Plus he likes Oreos.
He's also one lucky guy to have the sweetest love interest in the world. But I won't get too much into that because… spoilers! But let me just tell you that SIMON AND BLUE ARE THE MOST PERFECT SHIP EVER. They will make you grin until your face hurts and swoon until you faint. (Bonus points since Blue's identity was really surprising–hooray for contemporaries with a bit of a mystery!
And that crazy, supportive family we're always looking for in books? Simon's got it. He has such a big support system from his family who accept him for who he is. They're a really fun family, too. Lots of cute moments with his parents and fabulous sister.
Simon also had some not-so-perfect friends who he had not-so-perfect relationships with. This aspect I loved mostly because of how realistic it was–I mean, we don't always get along with our friends, right? Sometimes we can feel left out, and sometimes we leave someone out. We fight, we make up. And that's what Simon did with his friends (who were, by the way, also pretty supportive about his sexuality).
"White shouldn't be the default any more than straight should be the default. There shouldn't even be a default."
This book isn't just about adorableness (although there's a ton of that), Simon also sometimes has some pretty deep thoughts about issues in the world that need change. This book is also a lot about acceptance and thinking outside what is "normal" for most of us. Lots of beautiful messages were conveyed here, and I'm extremely happy about that.
Becky Albertalli is one awesome writer. The dialogues were so natural, the characters had great chemistry (!!!), and she just wrote what overall was one of the most adorable and beautiful books I've read. This book is a perfect fit for anyone looking for a fun book that isn't shallow at all.
*A digital review copy was provided by Balzer + Bray via Edelweiss in exchange for an honest review.
4.5 skulls
…
About Aimee

Aimee loves being a little bookworm (okay–she doesn't like being
little
). She also loves chocolates and sweets but is freaked out by the thought of possibly getting diabetes.
Goodreads
 |
Twitter
 |
Instagram
| 
all of Aimee's posts →