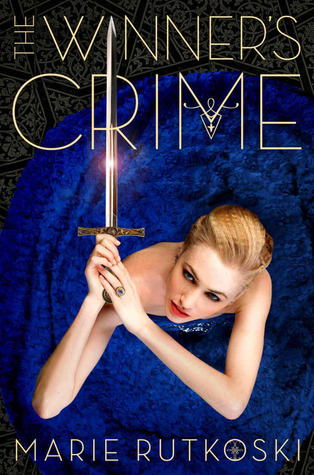 The Winner's Crime by Marie Rutkoski
The Winner's Trilogy, book #2
published on March 3rd 2015 by Farrar Straus Giroux
young adult | romance | fantasy | dystopia
find the book on
Goodreads
The engagement of Lady Kestrel to Valoria's crown prince means one celebration after another. But to Kestrel it means living in a cage of her own making. As the wedding approaches, she aches to tell Arin the truth about her engagement…if she could only trust him. Yet can she even trust herself? For—unknown to Arin—Kestrel is becoming a skilled practitioner of deceit: an anonymous spy passing information to Herran, and close to uncovering a shocking secret.
As Arin enlists dangerous allies in the struggle to keep his country's freedom, he can't fight the suspicion that Kestrel knows more than she shows. In the end, it might not be a dagger in the dark that cuts him open, but the truth. And when that happens, Kestrel and Arin learn just how much their crimes will cost them.
–
After absolutely adoring all the action and intrigue in The Winner's Curse, you could say that The Winner's Crime was a bit of a tamer read in terms of the gritty action, but it definitely does not lack in intrigue.
This book gave us a deeper look into the politics and dark deceptions within Valoria, Herran, and even outside that. You think politics is boring? The Winner's Crime will make you think otherwise. And gloriously, it was more showing than telling, so you wouldn't feel like all the information's being dumped all over you.
Kestrel still showed us that she's a force to be reckoned with. She was deceptive, curious, and intelligent as always. And she always had the people's best interests at heart. There isn't a dull moment as long as this feisty heroine's around.
While other people say that this book is a bit lighter on the romance, I would beg to differ. Personally, I thought the romance was still very prominent. I will always ship Arin and Kestrel, but for some reason, I found it hard to feel something for their relationship this time around. Maybe it was because Arin seemed a bit too bold for me, too formal and too regal for someone who used to be a slave.
The pacing was also a bit slower for this installment, since, like I mentioned earlier, the action was played down quite a notch here. I guess it was fine for me, since Marie Rutkoski's writing is as gorgeous and elegant as ever, and just made the story more real and vivid.
It's hard to pinpoint in particular why I gave this book a not-so-high rating, but it was probably for my lack of connection with the characters, considering the fact that I read this one when I was suffering from a huge reading slump.
*Thank you to Farrar, Straus and Giroux for the review copy!
3 skulls
…
About Aimee
Aimee loves being a little bookworm (okay–she doesn't like being little). She also loves chocolates and sweets but is freaked out by the thought of possibly getting diabetes.