This post is a part of The Last List Blog Hop to support Egmont authors. Check out details about The Last List Blog Hop as well as the full list of participants on Cuddlebuggery.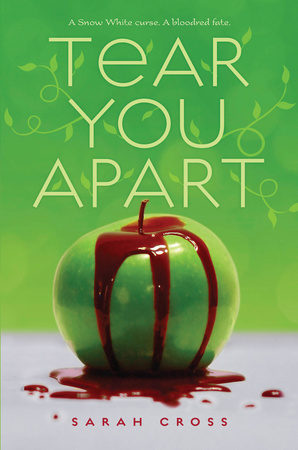 If you want to live happily ever after, first you have to stay alive.
Viv knows there's no escaping her fairy-tale curse. One day her beautiful stepmother will feed her a poison apple or convince her on-again-off-again boyfriend, Henley, to hunt her down and cut out her heart before she breaks his. In the city of Beau Rivage, some princesses are destined to be prey.
But then Viv receives an invitation to the exclusive club where the Twelve Dancing Princesses twirl away their nights. There she meets Jasper, an underworld prince who seems to have everything—but what he really wants is her. He vows to save her from her dark fate if she'll join him and be his queen.
All Viv has to do is tear herself away from the huntsman boy who still holds her heart. Then she might live to see if happily ever after is a promise the prince can keep. But is life as an underworld queen worth sacrificing the true love that might kill her?
If you could trade places with any fictional character from a YA novel, who would it be and why?
Just swap me into any of the evil overlord positions. I think I would enjoy villainously ruling a dystopian world or magical kingdom for a little while, even if it didn't end well.
 Which Disney prince do you think is perfect husband/boyfriend material?
Prince Phillip from Sleeping Beauty. He has a cool horse, he's totally down to sing and dance in the woods and doesn't think it's weird if he sees you role-playing with an owl, he has a lot of swagger when he adjusts his hat, and if you ever ran out of things to talk about you could always go back to, "So tell me about that time you were in Maleficent's dungeon again." Oh, and he fights dragons, so . . . who else is really a contender here?
Will any fictional character created by you possibly be an Oscar winner if s/he tried to act? If yes, what role would be perfect for him/her?
Ooh, interesting . . . I have a character who loves reading plays (Mira from Kill Me Softly) and a lot of liars but no actors. Okay, so let's say that Mira takes her love of plays that extra step and gives acting a try, maybe she ends up doing a remake of the 1967 film Wait Until Dark and reprising Audrey Hepburn's Academy Award-nominated role. Kill Me Softly opens with Mira reading that play, so in that sense it would be perfect for her, and I know she has some terrifying experiences to draw on.
Would you be able to survive a teddy bear apocalypse? (Imagine it–killer teddy bears running out to eat your insides! Creepy.)
Hard to say. A teddy bear apocalypse would be less scary than a zombie apocalypse, because at least the soulless murdering monsters would be adorable, and I could probably outrun the average teddy bear . . . but at the same time, my weakness for cute things might be my undoing. Like, if a bunch of killer teddy bears converged on a puppy or something, I'd probably try to save it, and then I'd be their new victim. Chances of my survival: 48%
Lastly, pitch your book to us in exactly 100 characters!
First I have to imagine teddy bears eating my insides and now this?? You're cruel, you know that? Okay, here goes:
A cursed Snow White princess fights to escape her dark fate in a city where fairy tales come to life.
(It only took me three tries to get a line that was exactly 100. Wow. This interview must have given me magical powers. Thanks, Aimee!)
Sarah Cross is the author of the fairy tale novels Kill Me Softly and Tear You Apart, the superhero novel Dull Boy, and the Wolverine comic "The Adamantium Diaries."
Sarah Cross is giving away a SIGNED copy of Kill Me Softly to a lucky North American reader! Full terms are in the Rafflecopter.
Have you read Kill Me Softly/Tear You Apart? Do you want to? Thoughts on the crazy interview? ;)
About Aimee
Aimee loves being a little bookworm (okay–she doesn't like being little). She also loves chocolates and sweets but is freaked out by the thought of possibly getting diabetes.