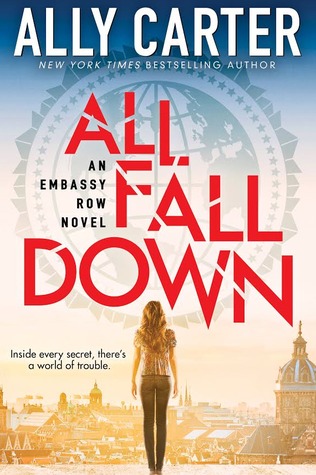 All Fall Down
by Ally Carter
published on January 20th 2015 by Scholastic Press
young adult | mystery
find the book on
Goodreads
This exciting new series from NEW YORK TIMES bestselling author Ally Carter focuses on Grace, who can best be described as a daredevil, an Army brat, and a rebel. She is also the only granddaughter of perhaps the most powerful ambassador in the world, and Grace has spent every summer of her childhood running across the roofs of Embassy Row.
Now, at age sixteen, she's come back to stay–in order to solve the mystery of her mother's death. In the process, she uncovers an international conspiracy of unsettling proportions, and must choose her friends and watch her foes carefully if she and the world are to be saved.
–
Grace saw her mother murdered right before her eyes but no one believes her. They say it was an accident, that her mother was killed in the fire, but she knew the truth. Her mother was shot in the chest by a scarred man. But she was thirteen and they say that's just trauma that's talking so nobody believed her.
Anyway, she was back in Adria again after three years and decided to stay for good. In her stay, she discovered that the man whom she believed killed her mother was here as well. So with the help of friends, she went to follow and observe this man and she felt really close now in figuring out what really happened in the night her mother died. Why did he kill her mother? Well, well, well. She definitely didn't saw that answers, that revelations coming.
Lesson: Sometimes, you just have to learn your boundaries, your limitations. We can never un-know things. Maybe sometimes, ignorance is bliss. Well, really. That's what strikes me the most here.
I liked Grace, our heroine. She was sarcastic and unafraid to speak her mind yet she was also fragile and really vulnerable. She was a very unreliable narrator. She started to doubt even herself when no one took her proclamations seriously and I actually felt sad for her. She felt really helpless and alone.
I like the friendships in this book.  Can I just say that I love Noah? He's just adorable. He just introduced himself to Grace one day and said that he was her best friend. Anyway even though I liked the relationships here, it wasn't perfect because it wasn't developed enough. You know, this felt like a sort of introduction, like the author is just preparing us for more to come. Maybe we'll see more of them in the next books.
The romance: There's not much room for romance here mainly because Grace wasn't really in the right state for that. She was lost and she felt a little crazy even. Anyway, I really think Alexei will be her love interest in this series even though he just sort of appeared here really randomly. I ship it! Their relationship is somewhat forbidden though because Alexei's Russian and they're nations aren't really strong allies.
The Setting: I loved the setting of this one! Embassy Row was literally like a lot of embassies next to each other, each representing a different country. Technically if you went to another side and you didn't have permission, you can start a war between nations. I think Ally Carter can really expand this. There's a lot of potential, there can be a lot of surprise villains and conspiracies and whatnots. I'm definitely looking forward to where she will bring this story.
As a reader of works by Ally Carter before, I can definitely say that the first book is the somewhat the weakest in her series. Say for example, Gallagher Academy. But I also know that her books improve as the series goes on so I have no doubt that I will love the subsequent installments even more than this.
*ARC provided by Netgalley in exchange for an honest review.
About Margarita
Margarita loves writing reviews to let out her feels and rants. She can be very shy but when you get to know her better, she's really a pretty outgoing person!