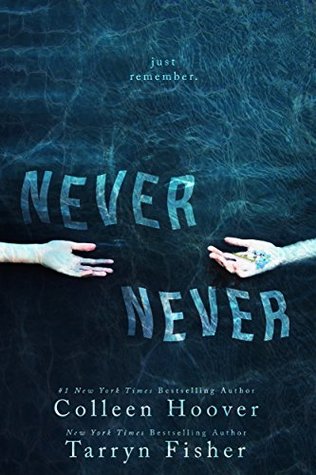 Never Never
by Colleen Hoover & Tarryn Fisher
published on January 7th 2015 by Hoover Ink
young adult | contemporary | romance | mystery
find the book on
Goodreads
Best friends since they could walk. In love since the age of fourteen.
Complete strangers since this morning.
He'll do anything to remember. She'll do anything to forget.
–
*Highlight to view spoilers at your own risk!
Why Never Never didn't work for me:
1. Charlie's a huge judgmental bitch. I'm not sure how many times she mentioned how ugly someone else was, and that she wasn't judging them and that it was just a fact. Jesus Christ, girl, have a little fucking respect. She's also a snob. Really, she dismisses everyone and their opinions… she just lacks the Queen Bee hair flip.
2. You can't tell if the romance in this book is genuine. This is the kind of insta-love that could have worked for me, but didn't. Let's see… /spoiler/ BOTH parties cheated on each other before they "forgot" their memories. I guess that doesn't apply to who they are now, but they hardly dealt with it. /end spoiler/ Also, both Silas and Charlie ignored each other at random times.
3. The what the fuck is happening factor of the book is negative. I totally understand that this book is part of a serial and is technically not an entire book in itself, but it felt like such a huge filler. Lots of the things that happened here seemed unnecessary since almost nothing was explained. The only useful chapters were the first (their meeting, of course) and the last (the bridge to the second installment).
Overall, while this book did intrigue me (because nothing was answered), I was shaking my head and rolling my eyes throughout my reading experience. This was not what it could have been…
2 skulls
…
About Aimee
Aimee loves being a little bookworm (okay–she doesn't like being little). She also loves chocolates and sweets but is freaked out by the thought of possibly getting diabetes.