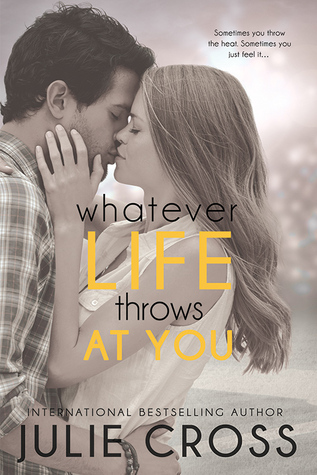 Whatever Life Throws at You
by Julie Cross
published on October 7th 2014 by Entangled Teen
new adult | contemporary | romance
find the book on
Goodreads
Seventeen-year-old Annie Lucas's life is completely upended the moment her dad returns to the major leagues as the new pitching coach for the Kansas City Royals. Now she's living in Missouri (too cold), attending an all-girls school (no boys), and navigating the strange world of professional sports. But Annie has dreams of her own—most of which involve placing first at every track meet…and one starring the Royals' super-hot rookie pitcher.
But nineteen-year-old Jason Brody is completely, utterly, and totally off-limits. Besides, her dad would kill them both several times over. Not to mention Brody has something of a past, and his fan club is filled with C-cupped models, not smart-mouthed high school "brats" who can run the pants off every player on the team. Annie has enough on her plate without taking their friendship to the next level. The last thing she should be doing is falling in love.
But baseball isn't just a game. It's life. And sometimes, it can break your heart…
–
Four things you'll absolutely love about Whatever Life Throws at You:
1. Annie was such a fantabulous protagonist. She was a responsible young woman who didn't whine or bitch about her life problems. At times, she was also pretty feisty and sassy, which made her character totally relatable. I also adored how passionate she was about running. She also constantly put into consideration other peoples' feelings and situations, making sure to give way to others. In short, she's a main character you could definitely use as a role model.
"Pressure is just that–pressure. It's all in your head. It has nothing to do with what you can or can't do."
2. Jason Brody is one swoon-worthy guy. Jason's the exact opposite of your typical douchebag hero in most new adult novels–he's sweet, caring and hilarious. He's also realistic in a way that he made lots of bad choices in the past, but he's trying everything he can to fix his mistakes and to be a better person.
3. The ship is very shippable. Annie and Jason have so much chemistry together, and you're going to love them. They have some pretty fun and cute back-and-forth banter. They also went through that friendship stage before being attracted to each other, and it was glorious seeing their relationship progress.
"I'd rather be alone than be head over heels in love. It's like being drunk. Your IQ drops a hundred points and you make stupid choices."
4. Family plays a big role in this book. Annie has such a strong bond with her dad, and it was heartwarming to see how much they cared for each other. They pushed each other to be better, and they were always making sure that the other was all good, healthy and happy.
5. FEELS! You are going to feel everything Annie feels–the sadness, the need and the love. There are tears (both happy and sad), laughs and swoons.
4 skulls
…
About Aimee
Aimee loves being a little bookworm (okay–she doesn't like being little). She also loves chocolates and sweets but is freaked out by the thought of possibly getting diabetes.