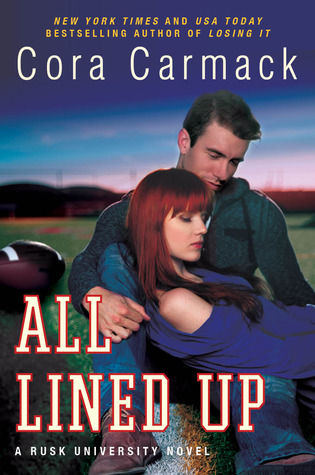 In Texas, two things are cherished above all else—football and gossip. My life has always been ruled by both.
Dallas Cole loathes football. That's what happens when you spend your whole childhood coming in second to a sport. College is her time to step out of the bleachers, and put the playing field (and the players) in her past.
But life doesn't always go as planned. As if going to the same college as her football star ex wasn't bad enough, her father, a Texas high school coaching phenom, has decided to make the jump to college ball… as the new head coach at Rusk University. Dallas finds herself in the shadows of her father and football all over again.
Carson McClain is determined to go from second-string quarterback to the starting line-up. He needs the scholarship and the future that football provides. But when a beautiful redhead literally falls into his life, his focus is more than tested. It's obliterated.
Dallas doesn't know Carson is on the team. Carson doesn't know that Dallas is his new coach's daughter.
And neither of them know how to walk away from the attraction they feel.
–
***Some spoilers for the sake of ranting.
Where do I even start? I've enjoyed quite a lot of books with sports and romance mixed together, so I guess I did set the bar high for this book. And, clearly, it was a huge disappointment.
All Lined Up took insta-lust, insta-attraction and insta-love to entirely new levels. Hell, Dallas and Carson kissed during their first meeting. Wonderful, isn't it? And yes, he did have his hand up her skirt that time! The I love yous came on pretty early as well, although it was mostly just implied. I couldn't get over how much they loved each other's smell–blegh.
"I can smell him. Over the sticky September air, over the chlorine from the pool that is apartment overlooks, over everything."
Romance aside, I still can't find much to like about this book. Dallas acted like a whiny teenage girl, getting mad and upset of over the most shallow reasons. Another hot-and-cold character that didn't work out for me, sadly.
Carson could've been an okay character, but unfortunately, Dallas had him wrapped up around her finger. He was way too enamored with her and I just couldn't understand why.
The romance took over the whole story. There was lots of potential for lots of father/daughter love that wasn't fully explored. There were a couple of scenes where I loved Dallas' dad and their relationship, but it could've had a much bigger role in the story. Dallas and Carson also each had their own hobbies (dancing and football) that weren't given much of a spotlight.
The writing wasn't for me, either. There was a lot more telling than showing–Carson and Dallas often had these completely random heart-to-heart talks where their dialogues were entire full-length paragraphs of their lives. Some words and phrases were repetitive, and while that might not bother some, it bothers me.
So I don't know if I'll be trying out another Carmack book in the near future. Probably not.
1 skull
…
About Aimee
Aimee loves being a little bookworm (okay–she doesn't like being little). She also loves chocolates and sweets but is freaked out by the thought of possibly getting diabetes.