A Deadly Christmas is a series of 2014 debut author features (quick interviews, reviews and giveaways) hosted by Deadly Darlings. Check out the full schedule here.
Let's welcome yet another author who published TWO books (debut included) in 2014–Heather Demetrios! *claps*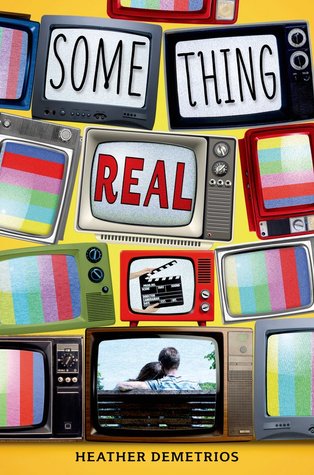 Something Real by Heather Demetrios
published on February 4th 2014 by Henry Holt BYR
young adult | contemporary | romance
find the book on
Goodreads
purchase the book on
Amazon
There's nothing real about reality TV.
Seventeen-year-old Bonnie™ Baker has grown up on TV—she and her twelve siblings are the stars of one-time hit reality show Baker's Dozen. Since the show's cancellation and the scandal surrounding it, Bonnie™ has tried to live a normal life, under the radar and out of the spotlight. But it's about to fall apart…because Baker's Dozen is going back on the air. Bonnie™'s mom and the show's producers won't let her quit and soon the life she has so carefully built for herself, with real friends (and maybe even a real boyfriend), is in danger of being destroyed by the show. Bonnie™ needs to do something drastic if her life is ever going to be her own—even if it means being more exposed than ever before.
Recommend your book!
I would recommend Exquisite Captive to fans of Daughter of Smoke and Bone by Laini Taylor and Shadow and Bone by Leigh Bardugo.
I would recommend Something Real to fans of Open Road Summer by Emery Lord.
 Why will readers enjoy your book?
You guys will definitely enjoy my book because they are about girls who are trying to break free, have fun book boyfriends, are fast-paced, and touch on deeper issues.
You caught one of your characters eating the last slice of pizza. Which character is this, and why was there pizza in the first place?
It would definitely be Josh from I'll Meet You There, which comes out on 02-02-15. He's a Marine and he'd pretty much take down anyone who came between him and food when he's hungry. And there's pizza because he works in a roadside motel and they don't have a kitchen, so everything has to be ordered in.
Which of your main characters is least likely to give gifts during Christmas and why?
Nalia from Exquisite Captive is least likely to give gifts during Christmas because she's a jinni and the whole Christmas thing is over her head. Also, there's no way in hell she'd get her master a Christmas present.
What would you do if one of your characters suddenly leaped out of your book?
Well, it would definitely depend on the character—Nalia is a trained killer, so I'd certainly be wary of her. I'd probably want to first make sure I wasn't dreaming and then after that, we'd hang out. If it was Nalia or someone from the Dark Caravan Cycle, I'd ask them what they want to do in Book 3, which I'm currently writing.
Can you guess which of these facts about Lori is actually a lie?
1. I almost drowned in the Great Barrier Reef.
2. I saw a ritual goat sacrifice in India.
3. My sister, my grandfather, and I all have the same birthday.
Answer (highlight): 
#1 is a lie! Oops!
When she's not traipsing around the world or spending time in imaginary places, Heather Demetrios lives with her husband in New York City. Originally from Los Angeles, she now calls the East Coast home.
Have you read/added any of Heather's books to your TBR? Did you guess her lie correctly? Thoughts on the interview?
About Aimee
Aimee loves being a little bookworm (okay–she doesn't like being little). She also loves chocolates and sweets but is freaked out by the thought of possibly getting diabetes.