A Deadly Christmas is a series of 2014 debut author features (quick interviews, reviews and giveaways) hosted by Deadly Darlings. Check out the full schedule here.
Since Stolen Songbird was my favorite book of the year (read my review here), I was stoked when Danielle L. Jensen agreed to be interviewed AND offered up a gorgeous signed copy of her book to give away! So let's give Danielle a big round of applause!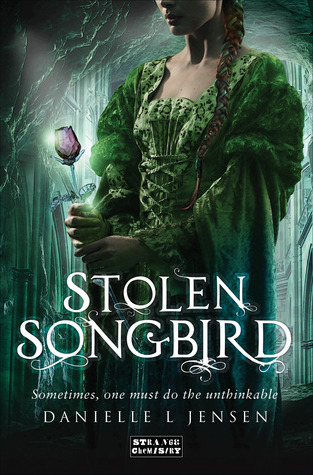 For five centuries, a witch's curse has bound the trolls to their city beneath the ruins of Forsaken Mountain. Time enough for their dark and nefarious magic to fade from human memory and into myth. But a prophesy has been spoken of a union with the power to set the trolls free, and when Cécile de Troyes is kidnapped and taken beneath the mountain, she learns there is far more to the myth of the trolls than she could have imagined.
Cécile has only one thing on her mind after she is brought to Trollus: escape. Only the trolls are clever, fast, and inhumanly strong. She will have to bide her time, wait for the perfect opportunity.
But something unexpected happens while she's waiting – she begins to fall for the enigmatic troll prince to whom she has been bonded and married. She begins to make friends. And she begins to see that she may be the only hope for the half-bloods – part troll, part human creatures who are slaves to the full-blooded trolls. There is a rebellion brewing. And her prince, Tristan, the future king, is its secret leader.
As Cécile becomes involved in the intricate political games of Trollus, she becomes more than a farmer's daughter. She becomes a princess, the hope of a people, and a witch with magic powerful enough to change Trollus forever.
Recommend your book!
I would recommend my book to fans of Seraphina by Rachel Hartman or Girl of Fire and Thorns by Rae Carson.
 Why will readers enjoy your book?
You guys will definitely enjoy my book because it has action, intrigue, and romance. Plus it's long, so it's like getting two books for the price of one. ;-)
If you suddenly became a professional wrestler, what would your kick-ass ring name be and why?
This is funny, because I'm such a wimp. How about Danielle "The Deceptive" Jensen. Don't let her scrawny arms fool you…
If you had your own talk show and could invite any three fictional characters as guests (even your own characters!), who would those three characters be and why?
Will (Infernal Devices), Four (Divergent), and Cole St. Clair (Sinner) for a round of mud wrestling. I don't think explanations of why are necessary.
What's your main character's favorite Disney movie + song and why?
Cécile's favourite Disney movie is The Little Mermaid and she can't choose between "Kiss the Girl" and "Part of Your World." She likes the movie because she knows what it feels like to me an outsider. Plus Ariel also has red hair and sings!
Can you guess which of these facts about Lori is actually a lie?
1. I was a competitive horseback rider during my teenage years, but I quit when I started university.
2. I've been told I have an exceptional voice, and sometimes my other half records me singing in the shower so he can listen to me while he's at work.
3. I never cook if I can help it, and when I told my family that my New Year's resolution was to prepare at least three meals a week without a microwave, they all laughed at me.
Answer (highlight): 
#2 is the lie! Danielle said, "

I have the worst voice, and when I sing, he glares at me and covers his ears."
Danielle was born and raised in Calgary, Canada. At the insistence of the left side of her brain, she graduated in 2003 from the University of Calgary with a bachelor's degree in finance. But the right side of her brain has ever been mutinous; and in 2010, it sent her back to school to complete an entirely impractical English literature degree at Mount Royal University and to pursue publication. Much to her satisfaction, the right side shows no sign of relinquishing its domination.
The fabulous Danielle is giving away a SIGNED paperback of Stolen Songbird! *squeals* You guys need this book in your lives. I freaking mean it. Open internationally!
Have you read/added Stolen Songbird to your TBR? Did you guess Danielle's fib correctly? Thoughts on the interview? Feeling lucky for the giveaway?
About Aimee
Aimee loves being a little bookworm (okay–she doesn't like being little). She also loves chocolates and sweets but is freaked out by the thought of possibly getting diabetes.