A Deadly Christmas is a series of 2014 debut author features (quick interviews, reviews and giveaways) hosted by Deadly Darlings. Check out the full schedule here.
Are you a fan of Throne of Glass or Snow Like Ashes? You'll definitely love Threats of Sky and Sea! Today you can win an e-copy and get to know the very sweet author, Jennifer Ellision!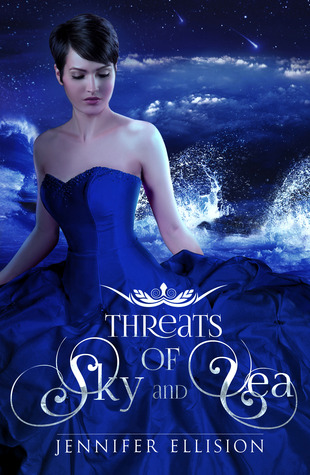 Threats of Sky and Sea by Jennifer Ellision
published on May 16th 2014 by Createspace
young adult | fa ntasy | romance
find the book on
Goodreads
purchase the book on
Book Depository | Amazon
Sixteen year-old Breena Perdit has spent her life as a barmaid, innocent to her father's past and happily free from the Elemental gifts that would condemn her to a life in the Egrian King's army. Until the day that three Elemental soldiers recognize her father as a traitor to the throne and Bree's father is thrown in jail—along with the secrets from his last mission as the King's assassin. Secrets that could help the King win a war. Secrets he refuses to share.
Desperate to escape before the King's capricious whims prove her and her father's downfall, Bree bargains with him: information for their lives. It's a good trade. And she has faith she'll get them both out of the King's grasp with time.
But that was before the discovery that she's the weapon the King's been waiting for in his war.
Now, time is running out. To save her father's life and understand her own, Bree must unravel the knot of her father's past before the King takes his life– and uses her to bring a nation to its knees.
Recommend your book!
I would recommend my book to fans of Throne of Glass by Sarah J. Maas, Graceling by Kristin Cashore, or Avatar: The Last Airbender.
 Why will readers enjoy your book?
You guys will definitely enjoy my book because… Reading is so subjective that I hesitate to say anyone will definitely enjoy it, but I hope that people will enjoy Threats of Sky and Sea largely for my heroines. Bree oscillates between vulnerable and sassy and I had a lot of fun writing her. Aleta is one who has to be drawn out of her shell, but once she is, I hope people will enjoy her for her strength.
If your main character ever had access to the internet, what websites would she visit the most and why?
For the record, I love this question. I'm cackling over the idea of Bree scowling at a computer screen. I have to imagine that, after the reveals about her father's past, she'd spend a lot of time bonding with google searches and websites like ancestry.com, to find out what else she's missed. I also think she would just NOT get the "don't read the comments" rule and wouldn't be able to stop herself from retorting angrily to posts/replies she disagrees with.
Is there are a cartoon character who you think is most like you? Why?
Well, I have a friend who insists that I remind her of Chihaya from the anime Chihayafuru and a few former co-workers have said that I remind them a lot of Anna from Frozen. The truth is that I actually see glints of myself in a few characters from Frozen. On the surface level and when I'm among close friends, I'm very Anna: goofy, a little awkward, fun-loving. But I also relate VERY heavily to Kristoff and Elsa, who are a little more closed-off and not as innately trusting as Anna is.
Do you think any of your characters would be willing to join the circus? If yes, who would it be and what would s/he do?
Of the works I have published, I'd have to say no. The villains would think it beneath them, while I think that most of my protagonists wouldn't find it serious enough for their tastes… or, in the case of Bree, she'd refuse because she wants very badly to be out of the public eye. But there are a couple of ladies that in Riot of Storm and Smoke (Book #2) that I think could be persuaded. Medalyn is very handy with a knife—I could see her in a sword swallowing act, or a precision knife throwing act. And Lady Lilia commands her estate's troops, so I think she'd make a fantastic lion tamer or perhaps a stunt horse rider.
Can you guess which of these facts about Jen is actually a lie?
1. I used to write Avatar: The Last Airbender fanfiction.
2. I once "tiled" my bedroom floor with books.
3. I get carsick if I read in the car.
Answer (highlight): 
#1 is the lie! Gasp! I definitely write Avatar fanfiction… in my mind. ;)
Jennifer Ellision was born and raised in South Florida and lives in perpetual fear of temperatures below 60F. She spent a great deal of her childhood staying up past her bedtime with a book and a flashlight. When she couldn't find the stories she wanted to read, she started writing them. She has an OTP, loves character analysis, and is a master of the fangirl flail, with a particular soft spot for fanfiction. She frequently bursts into song (and they are often of a Disney persuasion). Sailor Moon is one of her favorite things on this planet.
Anxious to read the book now? Jen's giving away e-copies of Threats of Sky and Sea PLUS the prequel, Sisters of Wind and Flame! Open internationally.
Have you read/added Threats of Sky and Sea to your TBR? Did you guess Jen's fib correctly? Thoughts on the interview? Feeling lucky for the giveaway?
About Aimee
Aimee loves being a little bookworm (okay–she doesn't like being little). She also loves chocolates and sweets but is freaked out by the thought of possibly getting diabetes.