A Deadly Christmas is a series of 2014 debut author features (quick interviews, reviews and giveaways) hosted by Deadly Darlings. Check out the full schedule here.
Who wants to read about a kick-ass girl in the military? Let's welcome the author of Rites of Passage, Joy N. Hensley!
Aimee recommends Rites of Passage to: anyone looking for some girl power in books. *fist pumps* Sam is badass and she knows it.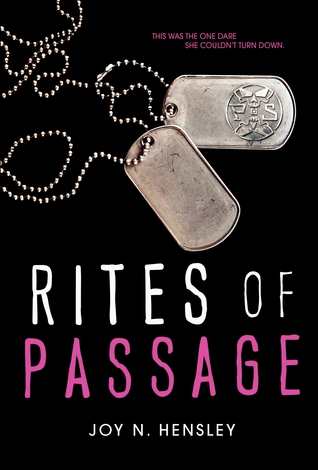 Rites of Pasage by Joy N. Hensley
published on September 9th 2014 by Harper Teen
young adult | realistic ficiton | romance | mystery
find the book on
Goodreads
purchase the book on
Book Depository | Amazon
Sam McKenna's never turned down a dare. And she's not going to start with the last one her brother gave her before he died.
So Sam joins the first-ever class of girls at the prestigious Denmark Military Academy. She's expecting push-ups and long runs, rope climbing and mud-crawling. As a military brat, she can handle an obstacle course just as well as the boys. She's even expecting the hostility she gets from some of the cadets who don't think girls belong there. What she's not expecting is her fiery attraction to her drill sergeant. But dating is strictly forbidden and Sam won't risk her future, or the dare, on something so petty…no matter how much she wants him.
As Sam struggles to prove herself, she discovers that some of the boys don't just want her gone—they will stop at nothing to drive her out. When their petty threats turn to brutal hazing, bleeding into every corner of her life, she realizes they are not acting alone. A decades-old secret society is alive and active… and determined to force her out.
At any cost.
Now time's running short. Sam must decide who she can trust…and choosing the wrong person could have deadly consequences.
Recommend your book!
I would recommend my book to fans of Something Like Normal by Trish Doller.
 Why will readers enjoy your book?
You guys will definitely enjoy my book because there's a girl putting boys in their place, and, hello! Boys in camouflage! :-) 
A vampire on a unicorn was facing off a werewolf on a Pegasus. Would you rather be the vampire or the werewolf? Why?
I'd like to be the vampire. I'm a control freak and the whole changing into a werewolf thing being out of my control would drive me bonkers! I may not want to suck blood (ew!) but at least I'd be in control.
Your main character won the Miss World/Miss Universe pageant. To what question did she win, and what was her answer?
HAHAHAHAHAAHAHAH! Yeah, Sam wouldn't enter that…..
If your main character could switch bodies with a celebrity for a day, who would that celebrity be and why?
Probably someone like Jennifer Lawrence because she'd get to be kickass, either in real life or in whatever acting role JLaw was doing at the time!
Can you guess which of these facts about Lori is actually a lie?
1. I went to military school on a dare.
2. My favorite pair of pants is camouflage
3. I've been in love with Charlie Hunnam since before anyone knew about Sons of Anarchy.
Answer (highlight): 
#2 is so not true!
Joy N. Hensley is a former middle school teacher. She used to spend her twenty-minute lunch breaks hosting author Skype chats for her students. Once upon a time she went to a military school on a dare. She lives in Virginia with her husband and two children, finding as many ways as she can to never do another push-up again.
Joy's giving away a signed swag pack with a lovely dog tag! Whoop! (Sorry for the blurry photo, guys.) This is open internationally!
Have you read/added Rites of Passage to your TBR? Did you guess Joy's fib correctly? Thoughts on the interview? Feeling lucky for the giveaway?
About Aimee
Aimee loves being a little bookworm (okay–she doesn't like being little). She also loves chocolates and sweets but is freaked out by the thought of possibly getting diabetes.