A Deadly Christmas is a series of 2014 debut author features (quick interviews, reviews and giveaways) hosted by Deadly Darlings. Check out the full schedule here.
Today we have Kendall Kulper, author of the unique and thrilling Salt & Storm!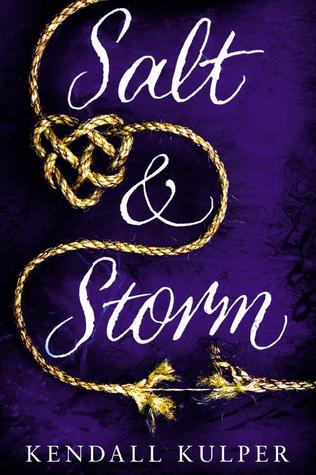 Salt & Storm by Kendall Kulper
published on September 23rd 2014 by Little, Brown Books for Young Readers
young adult | fa ntasy | historical fiction | romance
find the book on
Goodreads
purchase the book on
Book Depository | Amazon
You don't know what you must give up to become a witch.
Avery Roe wants only to claim her birthright as the witch of Prince Island and to make the charms that have kept the island's sailors safe at sea for generations, but instead she is held prisoner by her mother in a magic-free life of proper manners and respectability.
Avery thinks escape is just a matter of time, but when she has a harrowing nightmare, she can see what it means: She will be killed. She will be murdered. And she's never been wrong before.
Desperate to change her future, Avery finds a surprising ally in Tane—a tattooed harpoon boy with magic of his own, who moves her in ways she never expected. But as time runs out to unlock her magic and save herself, Avery discovers that becoming a witch requires unimaginable sacrifice.
Avery walks the knife's edge between choice and destiny in Kendall Kulper's sweeping debut: the story of one girl's fight to survive the rising storm of first love and family secrets.
My thoughts on the book (full review here): Salt & Storm's definitely a unique read that everyone needs to try out. Lots of unexpected twists at every turn. There's also a cute romance, a caring best friend, a loving mother and a creepy but badass grandmother. So yes, I highly recommend Salt & Storm to fans of fantasy, historical fiction and/or romance.
Recommend your book!
I would recommend my book to fans of The Scorpio Races by Maggie Stiefvater, Chime by Franny Billingsley, and The Brides of Rollrock Island by Margo Lanagan.
 Why will readers enjoy your book?
You guys will definitely enjoy my book because it's an epic story of love, family, responsibility, and identity, set on a romantic and remote whaling island, with a twist of magic to keep things interesting.
If a vampire suddenly appeared in front of your main character and offered him/her immortality, would he/she accept? And/or how will he/she react?
I think Avery, my main character, would probably laugh and say no. She's well aware that magic and magical solutions come at hefty prices, and I think she'd be way to wary of what she'd have to trade or give up for achieving immortality.
Which one of your characters is most likely to go skydiving?
Well, considering the book is set in the 1860s, I think they'd probably all be a little horrified of skydiving. Avery once saw a person who could float in the air, and ever since then there's a part of her that wishes she knew how to fly, so she might want to try skydiving.
Your main character met Michael Jackson. How would their conversation go?
Again, the whole 1860s thing would probably mean they'd be equally weirded out by each other. But I think Avery would probably like how sparkly his outfit was.
Can you guess which of these facts about Kendall is actually a lie?
1. I met my husband after saving him from nearly getting hit by a bus.
2. I wrote the prequel to SALT & STORM in just nine weeks.
3. I was an Olympic hopeful in archery and was flown out multiple times to train at Olympic training centers.
Answer (highlight):
 #1 is the lie!
Lori is an avid writer, reader, artist, and lover of unicorns. She should probably spend less time on the internet (but she won't). She has a borderline obsessive fascination with unicorns, is fond of talking in capslock, and loves to write about magic, manipulation, and family. She lives in Wisconsin with her husband, kids, and a friendly pitbull.
Have you read/added Salt & Storm to your TBR? Did you guess Kendall's fib correctly? Thoughts on the interview?
About Aimee
Aimee loves being a little bookworm (okay–she doesn't like being little). She also loves chocolates and sweets but is freaked out by the thought of possibly getting diabetes.