A Deadly Christmas is a series of 2014 debut author features (quick interviews, reviews and giveaways) hosted by Deadly Darlings. Check out the full schedule here.
Please welcome Lori M. Lee, author of the gorgeous Gates of Thread and Stone! *applause*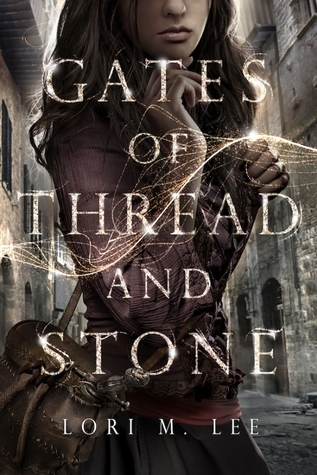 Gates of Thread and Stone by Lori M. Lee
published on August 5th 2014 by Skyscape
young adult | science fiction | fa ntasy | romance
find the book on
Goodreads
purchase the book on
Book Depository | Amazon
In the Labyrinth, we had a saying: keep silent, keep still, keep safe.
In a city of walls and secrets, where only one man is supposed to possess magic, seventeen-year-old Kai struggles to keep hidden her own secret—she can manipulate the threads of time. When Kai was eight, she was found by Reev on the riverbank, and her "brother" has taken care of her ever since. Kai doesn't know where her ability comes from—or where she came from. All that matters is that she and Reev stay together, and maybe one day move out of the freight container they call home, away from the metal walls of the Labyrinth. Kai's only friend is Avan, the shopkeeper's son with the scandalous reputation that both frightens and intrigues her.
Then Reev disappears. When keeping silent and safe means losing him forever, Kai vows to do whatever it takes to find him. She will leave the only home she's ever known and risk getting caught up in a revolution centuries in the making. But to save Reev, Kai must unravel the threads of her past and face shocking truths about her brother, her friendship with Avan, and her unique power.
Recommend your book!
I would recommend my book to fans of fantasy with just a touch of dystopian and steampunk.
 Why will readers enjoy your book?
You guys will definitely enjoy my book because there's magic, manipulation, a surprise around every turn, and because it is, at its core, a story about one girl's devotion to her brother.
If your book would be a season (winter, spring, summer or fall), which would it be and why?
It would be early spring, partly because the actual weather within the book is suited to the pleasant coolness of spring and the trees that haven't yet shed the decay of winter. But also because of a tattoo that one of the characters has–it's a bare tree with only a few leaves, meant to signify change for the better, which is an apt symbol for the book's theme as a whole.
Tell us a unique/quirky/odd habit that you have and that your main character might possibly have as well.
I never point at the moon. It's a superstition in my culture that goes like this: if you point at the moon, it'll come down at night when you're sleeping and cut your ear. My logical/practical side knows it's ridiculous, but it's so ingrained in me that I just don't do it. Kai does not have this quirk lol.
Is there a YA author who you wished could be your sister/brother and why?
This answer could potentially come across creepy LOL. I'm going to go ahead and say Neil Gaiman or J.K. Rowling because DUH haha.
Can you guess which of these facts about Lori is actually a lie?
1. I'm a Kung Fu black belt.
2. I have a pilot's license.
3. I once dreamed I was dating Draco Malfoy.
Answer (highlight): 
Lori kind of cheated. ;) Numbers one and two are both lies. We're totally not judging her for her Draco dream though, right?
Lori is an avid writer, reader, artist, and lover of unicorns. She should probably spend less time on the internet (but she won't). She has a borderline obsessive fascination with unicorns, is fond of talking in capslock, and loves to write about magic, manipulation, and family. She lives in Wisconsin with her husband, kids, and a friendly pitbull.
Lori graciously offered to give away an awesome signed swag pack! Terms are in the Rafflecopter form–open internationally! (Ack they're so pretty *grabby hands*)
Have you read/added Gates of Thread and Stone to your TBR? Did you guess Lori's fibs correctly? Thoughts on the interview? Feeling lucky for the giveaway?
About Aimee
Aimee loves being a little bookworm (okay–she doesn't like being little). She also loves chocolates and sweets but is freaked out by the thought of possibly getting diabetes.