A Deadly Christmas is a series of 2014 debut author features (quick interviews, reviews and giveaways) hosted by Deadly Darlings. Check out the full schedule here.
Alright! Fans of cute contemporary novels, step right up and be prepared, because today we have over Liz Czukas, the awesome and fun author of Ask Again Later! Join us as she chats about her newest release (2 books in 2014! Crazy, I know), Top Ten Clues You're Clueless!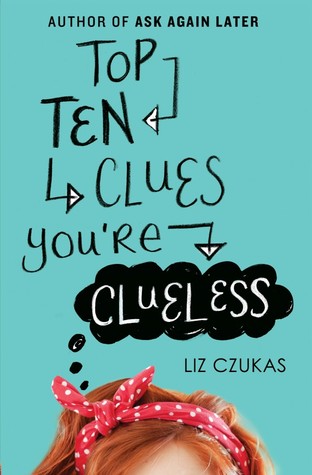 Top Ten Clues You're Clueless by Liz Czukas
published on December 9th 2014 by Harper Teen
young adult | contemporary | romance
find the book on
Goodreads
purchase the book on
Book Depository | Amazon
Top Five Things That Are Ruining Chloe's Day
5) Working the 6:30 a.m. shift at GoodFoods Market
4) Crashing a cart into a customer's car right in front of her snarky coworker Sammi
3) Trying to rock the "drowned rat" look after being caught in a snowstorm
2) Making zero progress with her crush, Tyson (see #3)
1) Being accused—along with her fellow teenage employees—of stealing upwards of $10,000
Chloe would rather be anywhere than locked in work jail (aka the break room) with five of her coworkers . . . even if one of them is Tyson. But if they can band together to clear their names, what looks like a total disaster might just make Chloe's list of Top Ten Best Moments.
Recommend your book!
I would recommend my book to fans of Ten Things We Did (And Probably Shouldn't Have) by Sarah Mlynwoski, and The Lonely Hearts Club by Elizabeth Eulberg.
 Why will readers enjoy your book?
You guys will definitely enjoy my book because it's full of humor, and ridiculous hijinks, and it's frequently compared to The Breakfast Club.
Your main character's acquaintance (not really a friend) is being kidnapped! What would your main character do?
Chloe would absolutely make sure she got down every detail she could–description of the kidnapper, the car, including license plate, which way they were going, and everything she knows about her acquaintance. And she'd write it all down in her handy notebook, because that is so Chloe.
Do you think your main character's love interest would want to date you?
Hmm, I might be a little obnoxious for Tyson. He seems to like the shy type, while I am more the dance behind the cart while waiting to pay for my groceries type.
If your main character rubbed a magic lamp and out popped a genie, what would your main character wish for first?
To not have diabetes anymore. Chloe has been dealing with diabetes her whole life, and her mother is super protective of her a a result. Chloe has to worry about when and what she's going to eat all the time, when all she wants to be "normal"–whatever that is!
Can you guess which of these facts about Liz is actually a lie?
1. I love Christmas movies and I watch them any time of year.
2. I am so afraid of snakes I can't even look at them on TV or in pictures.
3. I have been to every continent but Antarctica.
Answer (highlight): 
#3 is the lie!
Liz Czukas is a freelance writer (on sometimes sad or boring topics), and also writes books for young adults (which are rarely sad and full of kissing).  Before that, she was a nurse and she still kind of misses starting IVs.
She lives outside Milwaukee, WI with her husband, son and the world's loudest cat.  She types too loud (according to her husband), spends too much time on the Internet, and can't get enough of disaster movies.  There is *always* a song stuck in her head, and she once won a hula-hoop contest.
Liz's awesome publicist from Harper Teen gladly offered a paperback copy of ASK AGAIN LATER to give away! Sadly, this is US only. Full terms are in the Rafflecopter!
Have you read/added Ask Again Later and Top Ten Clues You're Clueless to your TBR? (Both novels are very light and adorable!) Did you guess Liz's fib correctly? Thoughts on the interview? Feeling lucky for the giveaway?
About Aimee
Aimee loves being a little bookworm (okay–she doesn't like being little). She also loves chocolates and sweets but is freaked out by the thought of possibly getting diabetes.