A Deadly Christmas is a series of 2014 debut author features (quick interviews, reviews and giveaways) hosted by Deadly Darlings. Check out the full schedule here.
Today we're having Melissa Landers, author of the gorgeous (inside and out!) Alienated. *drum roll*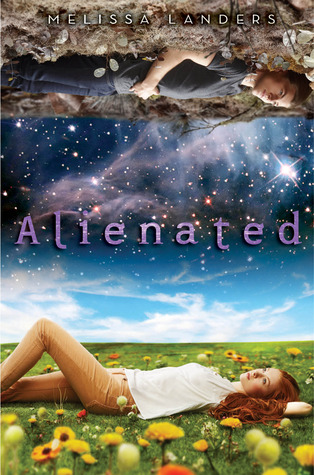 Alienated by Melissa Landers
published on February 4th 2014 by Disney Hyperion
young adult | science fiction | romance
find the book on
Goodreads
purchase the book on
Book Depository | Amazon
Two years ago, the aliens made contact. Now Cara Sweeney is going to be sharing a bathroom with one of them.
Handpicked to host the first-ever L'eihr exchange student, Cara thinks her future is set. Not only does she get a free ride to her dream college, she'll have inside information about the mysterious L'eihrs that every journalist would kill for. Cara's blog following is about to skyrocket.
Still, Cara isn't sure what to think when she meets Aelyx. Humans and L'eihrs have nearly identical DNA, but cold, infuriatingly brilliant Aelyx couldn't seem more alien. She's certain about one thing, though: no human boy is this good-looking.
But when Cara's classmates get swept up by anti-L'eihr paranoia, Midtown High School suddenly isn't safe anymore. Threatening notes appear in Cara's locker, and a police officer has to escort her and Aelyx to class.
Cara finds support in the last person she expected. She realizes that Aelyx isn't just her only friend; she's fallen hard for him. But Aelyx has been hiding the truth about the purpose of his exchange, and its potentially deadly consequences. Soon Cara will be in for the fight of her life—not just for herself and the boy she loves, but for the future of her planet.
Recommend your book!
I would recommend my book to fans of The Lux novels by Jennifer Armentrout, because both series involve hot aliens. And who doesn't love hot aliens? In fact, Jennifer Armentrout called Alienated "The perfect blend of sizzling romance, action, and suspense." (Which was hugely flattering, especially coming from her!)
 Why will readers enjoy your book?
You guys will definitely enjoy my book because Cara Sweeney is a smart and funny heroine who tries to do the right thing, despite the cost to her reputation. She's the kind of girl you'd want for a best friend. She and Aelyx get off to a rough start, but that changes over the course of the book. It was so much fun to write their gradual journey from awkward acquaintances to friends to…much more than friends. These two are masters of the "slow burn."
Your magic carpet could take you anywhere. Now where would you go?
Wha?? How is this even a question? I'd go to Hogwarts! (Assuming I'm not a muggle.)
An evil fairy cursed your main character to turn into the animal he/she is most similar to. What animal is your character now?
Cara Sweeney would make an excellent honey badger. The girl loves to win, and doesn't let anything stop her.
You saw your neighbors burning a box of books. What are you going to do?
As stupid as it is to burn perfectly good books, my neighbors have the right to do whatever they want, within the limits of the law. But I would totally give them the stink-eye.
Can you guess which of these facts about Melissa is actually a lie?
1. I graduated from high school in Germany.
2. I write adult romance under a pen name.
3. My favorite candy is black licorice.
Answer (highlight): 
#3 is the lie. According to Melissa, "black licorice is evil and disgusting."
Melissa Landers is a former teacher who left the classroom to pursue other worlds. A proud sci-fi geek, she isn't afraid to wear her Princess Leia costume in public—just ask her husband and three kids. She lives just outside Cincinnati and writes adult contemporary romance as Macy Beckett.
Have you read/added Alienated to your TBR (you should!)? Did you guess Melissa's fib correctly? Thoughts on the interview?
About Aimee
Aimee loves being a little bookworm (okay–she doesn't like being little). She also loves chocolates and sweets but is freaked out by the thought of possibly getting diabetes.