Weekly OTP is going to be a regular weekly feature here at Deadly Darlings. Each week (on Wednesday) one of the girls will pick their OTP/ship of the week (not necessarily from a book they recently read–anything goes as long as they can't get this ship off their minds)!
So I wanted to have sort of a regular, steady meme here on the blog. But instead of doing a TTT (which I love but takes time) or a WoW (which I also love, but I can't seem to make my posts a bit more unique), we're going to be having Weekly OTPs here on the blog!
This week my OTP's COBALLOWAY, also known as the super geniuses Rose Calloway and Connor Cobalt. (Oh stop smirking, Siiri. You totally saw this coming.)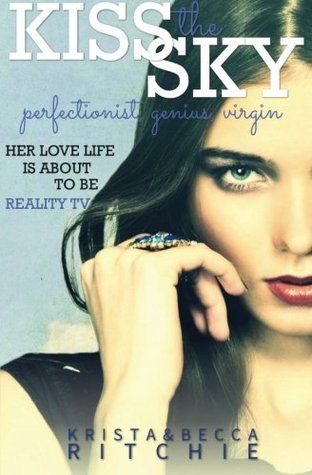 Kiss the Sky by Krista and Becca Ritchie
Calloway Sisters, #1
to be published on January 22nd 2014 by KB Ritchie
new adult | romance | contemporary
find the book on
Goodreads

Virgin. Sex addict. Daredevil. Alcoholic. Smartass … Jackass. Her five friends are about to be filmed. Reality TV, be prepared.
Rose Calloway thought she had everything under control. At twenty-three, she's a Princeton graduate, an Academic Bowl champion, a fashion designer and the daughter of a Fortune 500 mogul. But with a sex addict as a sister and roommate, nothing comes easy.
After accepting help from a producer, Rose agrees to have her life filmed for a reality television show. The Hollywood exec is her last chance to revive her struggling fashion line, and boundaries begin to blur as she's forced to make nice with a man who always has his way.
Twenty-four-year-old Connor Cobalt is a guy who bulldozes weak men. He's confident, smart-as-hell and lives with his equally ambitious girlfriend, Rose Calloway. Connor has to find a way to protect Rose without ruining the show. Or else the producer will get what Connor has always wanted—Rose's virginity.
To be honest, when I first came across this book and read the synopsis, I had it in my mental hell-no list. Then I read the authors' Addicted series, then I got attached to both Connor and Rose. And then I wanted a lot more of them.
So I finally read Kiss the Sky. And let me tell you guys one truth: Connor and Rose are my ultimate OTP of this series. For those of you who are wondering, no, there is definitely no instalove between these two. They've known each other for ten years before actually getting together, which is something I respect a lot.
"You're not a pit stop. You're my finish line. There's no one after you." –Connor to Rose
That synopsis doesn't do this story justice. It just screams typical NA, but the story has so much more depth. Connor and Rose have unbelievable chemistry and undeniable sexual tension. They teased each other in such odd ways (like playing Kill, Marry, Fuck or testing each other with literary quotes), but I loved every second of it.
"Kiss the sky with me," Connor whispers, a beautiful smile pulling his lips, "and don't ever come down."
These two characters bring out the best and the worst in each other. They fight really often (and they both love the challenge the other one brings), but eventually do sort it out because they just both know that they're meant for each other…
I better stop before I die swooning in here. Seriously, I nearly spent my whole afternoon rereading some of their most swoon-worthy scenes from Kiss the Sky.
I need Fuel the Fire (the second book from their POVs) right. Now.
Want a taste of some Coballoway? Check out this gorgeous bonus material from KB Ritchie (and yes, I adored it and may have read it about five times now).
Have you read Kiss the Sky? Are you a Coballoway fan? Or share your OTP of the week!
About Aimee
Aimee loves being a little bookworm (okay–she doesn't like being little). She also loves chocolates and sweets but is freaked out by the thought of possibly getting diabetes.