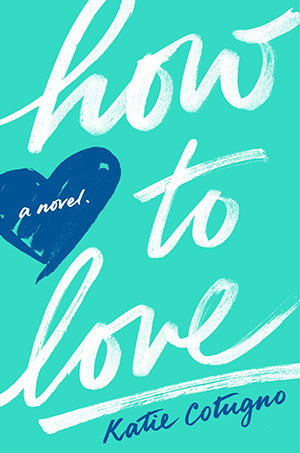 How to Love by Katie Cotugno
published on October 1st 2013 by Balzer + Bray
young adult | contemporary | romance
find the author on
Goodreads 
find the book on
Goodreads
Before:
Reena Montero has loved Sawyer LeGrande for as long as she can remember: as natural as breathing, as endless as time. But he's never seemed to notice that Reena even exists until one day, impossibly, he does. Reena and Sawyer fall in messy, complicated love. But then Sawyer disappears from their humid Florida town without a word, leaving a devastated—and pregnant—Reena behind.
After:
Almost three years have passed, and there's a new love in Reena's life: her daughter, Hannah. Reena's gotten used to being without Sawyer, and she's finally getting the hang of this strange, unexpected life. But just as swiftly and suddenly as he disappeared, Sawyer turns up again. Reena doesn't want anything to do with him, though she'd be lying if she said Sawyer's being back wasn't stirring something in her. After everything that's happened, can Reena really let herself love Sawyer LeGrande again?
–
***Warning, this rant will contain spoilers for How to Love and some angry GIFs. A very incoherent rant will be coming your way.
This was me when I finally got to buy this book since there was a sale at our local bookstore:
But then, I realized something as the book went on. The title of this book–yeah, it doesn't work. At all. Instead of How to Love, I strongly believe this boos should be entitled How to Cheat and Be a Whiny Little Girl.
See, in both the "before" and "after" timelines, Reena ends up cheating with Sawyer.
Cheating is a pretty timely issue that good books should be able to deal with, but I completely hate it when it nobody tries to fix what they did wrong! You people are technically adults (in the "after" timeline) and you have a kid. At least try to be decent people!
Reena. Dammit, this girl CANNOT do anything for herself. She was a ditzy, flat, passive heroine and I wanted to shove her off a cliff. Let's take this aspect for example: Reena says she won't forgive Sawyer for leaving her, and LO AND BEHOLD, a few dinner invites later, they're kissing (and cheating on Reena's boyfriend)!
Reena was also a useless friend. She lied to the people she called her "best friends" so often that you might even question your relationships with your friends afterwards. I hated how horribly the aspect of friendship was played out here. It was also unbelievable how easily her best friend forgave her for what she did. I mean, just imagine YOUR best friend cheating on YOUR big brother!
And let's talk Sawyer. See, this guy is an ass. None of his reasons for doing his stupid shit made any sense. His character and his character's motives were in no way realistic. The swoon-worthy, gentle hero I was hoping for was nowhere to be seen in this book.
Just in case you were wondering, this is what I did right after reading the book:
1 skull
Liked this review? You also find it on 
Goodreads
.
…
About Aimee
Aimee loves being a little bookworm (okay–she doesn't like being little). She also loves chocolates and sweets but is freaked out by the thought of possibly getting diabetes.