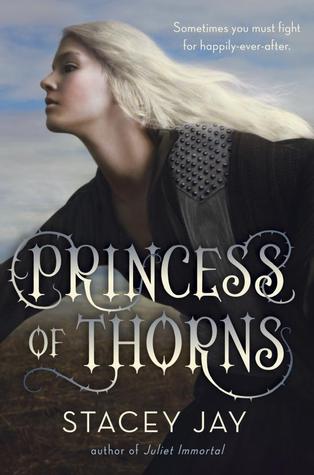 Princess of Thorns by Stacey Jay
published on December 9th 2014 by Delacorte Press
fantasy | retellings | romance
find the author on
Goodreads  | website
find the book on
Goodreads
Though she looks like a mere mortal, Princess Aurora is a fairy blessed with enhanced strength, bravery, and mercy yet cursed to destroy the free will of any male who kisses her. Disguised as a boy, she enlists the help of the handsome but also cursed Prince Niklaas to fight legions of evil and free her brother from the ogre queen who stole Aurora's throne ten years ago.
Will Aurora triumph over evil and reach her brother before it's too late? Can Aurora and Niklaas break the curses that will otherwise forever keep them from finding their one true love?
–
I'm all warning you now: This book won't be for everybody. It had its fair share of pros and cons, but personally, I thought the novel's redeeming qualities outweighed the irritating bits.
Why You Must Read the Book:
• The elegant writing will surely draw you in. It wasn't elegant in a "lyrical" sense (I hate those books), but it was simple, but with a very nice flow. The writing definitely made the world more believable for me.
• Character development was great. We actually start off with two bratty, annoying main characters who grow throughout the course of the book. They became stronger both mentally and emotionally. By the end, I respected them both a lot more.
• You'll love the dynamics between Aurora and Niklaas. Their relationship has the perfect balance between friendship and romance. Of course, Niklaas thought that Aurora was a guy at first (it's in the blurb), which was a great opportunity to build up a tight friendship.
• FEELS! Yup, feels. I didn't ugly cry or anything, but I did tear up a bit and I just shipped Ror and Niklaas so hard!
Why You Might Hate the Book:
• You might be expecting a Sleeping Beauty retelling… And let me tell you, you won't get it. If anything, this book was closer to a retelling of Mulan. There were only very little bits and minor details of this book that can be considered part of Sleeping Beauty.
• There wasn't enough world building. We're given an intriguing idea of the world (orges, fairies and whatnot… interesting, yeah?), but not enough depth. I would have liked more pages of the book dedicated to the world, how it came to be, and why things are the way they are.
• We don't get enough of the real antagonist. Said character is only present in a few parts of the book and isn't given much of a background. I would have wanted to know his story as well.
Overall:
If you're looking for a Sleeping Beauty retelling or gorgeous world building, this isn't the book you're looking for. But if you just want a simple story with interesting characters, chemistry, and easy-to-read writing, consider giving this book a shot.
Liked this review? You also find it on 
Goodreads
.
…
About Aimee
Aimee loves being a little bookworm (okay–she doesn't like being little). She also loves chocolates and sweets but is freaked out by the thought of possibly getting diabetes.