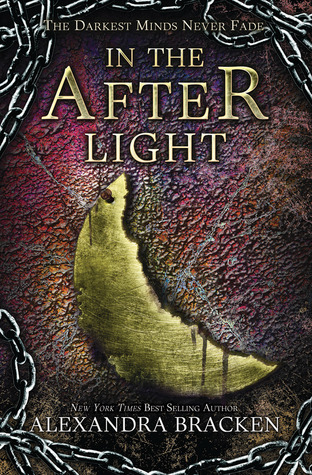 Ruby can't look back. Fractured by an unbearable loss, she and the kids who survived the government's attack on Los Angeles travel north to regroup. With them is a prisoner: Clancy Gray, son of the president, and one of the few people Ruby has encountered with abilities like hers. Only Ruby has any power over him, and just one slip could lead to Clancy wreaking havoc on their minds.
They are armed only with a volatile secret: proof of a government conspiracy to cover up the real cause of IAAN, the disease that has killed most of America's children and left Ruby and others like her with powers the government will kill to keep contained. But internal strife may destroy their only chance to free the "rehabilitation camps" housing thousands of other Psi kids.
Meanwhile, reunited with Liam, the boy she would-and did-sacrifice everything for to keep alive, Ruby must face the painful repercussions of having tampered with his memories of her. She turns to Cole, his older brother, to provide the intense training she knows she will need to take down Gray and the government. But Cole has demons of his own, and one fatal mistake may be the spark that sets the world on fire.
"There is one side. That is the side of friendship and trust and love and that is the side that everyone should be on, and I am refusing to acknowledge that any other side could exist."
Before I start describing how I felt about this one, let me just tell you that I loved the first two books in this series. Though they have a bit of a slow-paced beginning, I think both books are awesome in their own way. The feels absolutely took my breath away. They are so good, in my opinion.
I cannot say the same thing about this one though. I was kind of disappointed (and a little sad about it).
When I started reviewing books, I started noticing minor details which wouldn't even matter to me before but now, they affect how I rate books. I just can't let them go no matter how I wanted to see a book as perfect.
This one was a blur. For me, anyway. I'm like clueless of what is happening most of the time (a bad kind of clueless, unlike in the Mara Dyer series!) and there was a point where I didn't care about what will happen anymore. I was reading a scene and my thinking would be in the lines of, "Huh" "Meh" "Am I supposed to care?". It was kind of…bizaare. I mean, this was one of my most awaited books of 2014. Why wouldn't I care?! TT
The conflict was resolved too easily. The details were kind of hazy. The last part was really not at all clear to me. And the villain conveniently disappeared on the face of the Earth. So much for waiting for a big battle. -_-
I didn't like Ruby. She reminded me of Tris actually it's kind of annoying. She is thinking that all the blame was hers. I mean, no way. People have minds of their own. They do what they do and stop being insufferable, YA heroines.
Well, this book still has a positive side. I mean, my SHIP has sailed. They were just adorable. And I'm not talking about Liam and Ruby. ;) I enjoyed reading about the secondary characters. They made this book more interesting. The romance part about Liam and Ruby was written so poorly. Ruby treated Liam like he needed all the protecting. He's not a baby, okay? Ugh.
Another thing that didn't make me like this book so much is the ending. Really anticlimactic. IAAN was a big joke. The world building is in shambles.
I love this series, there's no doubt about that. BUT. I didn't feel here the love that I felt on the first two books. I didn't ugly-cried like I did in The Darkest Minds. It was like expecting a mindblowing hurricane but only getting a drizzle. Yeah, it all comes down to expectations again, I guess. To those people who will be reading this one, I think you should probably lower your expectations. Better wait for less and get so much more than wait for much but get only a little, right?
"What I'm trying to get at is, as bad as everything seems, I think, at its heart, life is good. It doesn't throw anything at us that it knows we can't handle—and, even if it takes its time, it turns everything right side up again."
About Margarita
Margarita loves writing reviews to let out her feels and rants. She can be very shy but when you get to know her better, she's really a pretty outgoing person!