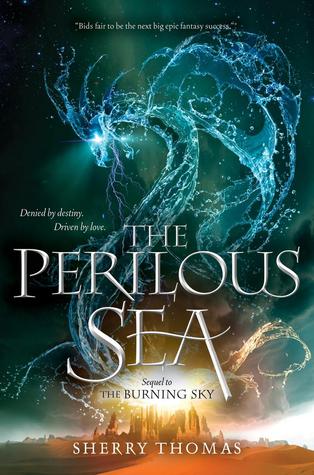 After spending the summer away from each other, Titus and Iolanthe (still disguised as Archer Fairfax) are eager to return to Eton College to resume their training to fight the Bane. Although no longer bound to Titus by a blood oath, Iolanthe is more committed than ever to fulfilling her destiny—especially with the agents of Atlantis quickly closing in.
Soon after arriving at school, though, Titus makes a shocking discovery, one that makes him question everything he previously believed about their mission. Faced with this devastating realization, Iolanthe is forced to come to terms with her new role, while Titus must choose between following his mother's prophecies—and forging a divergent path to an unknowable future.
–
I literally tripped over myself trying to get this book—thank God no one was there to see it! I honestly don't understand how it is possible for a person to trip while walking on a flat surface! It's horrifyingly embarrassing. Anyway, I absolutely fell (pun intended) head over heels in love with The Perilous Sea.
The plot, like The Burning Sky, was spectacular. The twists and secrets revealed were enough to make my head spin! It was amazing. Another good point about the story was the world-building. Thomas painted such a vivid image of the world the characters live in with her descriptive writing style. It was easy to put yourself in their shoes and see what they're seeing.
The main characters in the novel were also very well-developed, though a little irritating at times. Iolanthe Seabourne, a powerful elemental mage, has come a long way from the weak little girl Titus first discovered. She has finally accepted her destiny and was definitely a badass! The only thing I dislike about her was her being whiny and always pining for Titus. I mean, portray us girls with justice! We're hardly that clingy, right? Prince Titus was portrayed as a caring and really sensitive guy. He'd prepare Iolanthe for every possible thing that could go wrong and almost everything he says makes my shipper heart stutter! However, I didn't really like him also being too clingy.
The romance was causing quite a storm when I was reading it. My shipper half was jumping around and flailing screaming her head off about how Titus and Iolanthe were just so perfect for each other—however, my cynical half was off brooding about how their love was unrealistic and that no one cared about another that much. Their love was described to be something really intense and deep, with each of them needing the other as if they were the air they need to breathe. I honestly still don't know how I feel about it though…
All in all, this was a read I wouldn't want anyone to miss. It was intense and full of surprises with just the right amount of fun and humor.
4 skulls
Have you tried reading this one or The Burning Sky?
About Dyan
Dyan has the tendency to get irritated with most heroines. It's just something she's always been really over-analyzing. She tends to like the heroes/love interests more.