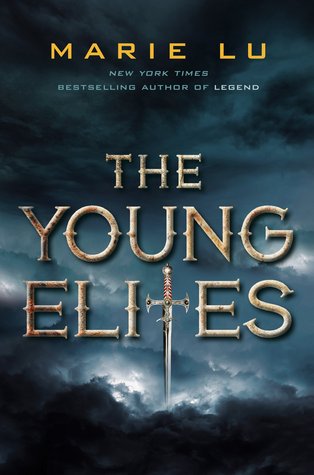 I am tired of being used, hurt, and cast aside.
Adelina Amouteru is a survivor of the blood fever. A decade ago, the deadly illness swept through her nation. Most of the infected perished, while many of the children who survived were left with strange markings. Adelina's black hair turned silver, her lashes went pale, and now she has only a jagged scar where her left eye once was. Her cruel father believes she is a malfetto, an abomination, ruining their family's good name and standing in the way of their fortune. But some of the fever's survivors are rumored to possess more than just scars—they are believed to have mysterious and powerful gifts, and though their identities remain secret, they have come to be called the Young Elites.
Teren Santoro works for the king. As Leader of the Inquisition Axis, it is his job to seek out the Young Elites, to destroy them before they destroy the nation. He believes the Young Elites to be dangerous and vengeful, but it's Teren who may possess the darkest secret of all.
Enzo Valenciano is a member of the Dagger Society. This secret sect of Young Elites seeks out others like them before the Inquisition Axis can. But when the Daggers find Adelina, they discover someone with powers like they've never seen.
Adelina wants to believe Enzo is on her side, and that Teren is the true enemy. But the lives of these three will collide in unexpected ways, as each fights a very different and personal battle. But of one thing they are all certain: Adelina has abilities that shouldn't belong in this world. A vengeful blackness in her heart. And a desire to destroy all who dare to cross her.
It is my turn to use. My turn to hurt.
–
I'm really, really not sure how to review this one. So let me give you a conversation I think I would have with the book and the characters if they were real and could talk (plus a bit of what the book is about if you guys are curious):
Me (Pre-reading): Hello, gorgeous. I am so ready for the light, fun fantasy story you are going to give me. *flexes fingers* *cracks spine*
The Young Elites: HAHAHA. Think again, girl.
Adelina Amouteru (heroine-ish): I'm pretty, but I have only one eye! My dad loves my sister more than me! *sulks*
Adelina: *a few pages later* *GASP* I have powers! *prances around and accidentally kills people*
Me: GIRL, YOU ARE BADASS. *tries to hug Adelina without getting self killed*
Enzo Valenciano (hero-ish): Hey, Adelina. You're pretty powerful. Join us and we will rule! Bwahaha!
Me: Oh my God, you are so hot. *swoons* You and Adelina would be awesome together. I SHIP IT. I SHIP IT!
Teren Santoro (villain-ish): Abominations! Kill them with fire!
Me: Noooooooo! Don't hurt my ship! But hey, I like you. You're kind of a creep, but you're totally an interesting creep.
Teren: Uh, thank you?
Me: Gee, don't you guys think your outlooks on life are kind of… dark? I mean, that's totally awesome and everything, but shouldn't you think about rainbows shitting unicorns every once in a while? No?
Everyone: NO.
Me: Fine. I still want to see how things end. *continues reading* OH, LOOK! More characters! Hooray! I kind of like these other guys.
The Young Elites: I am full of fantastic characters, darling.
Me: I know, right? Where are the feels, though? Am I missing something?
The Young Elites: Feels? Here you go. *cue intense scenes*
Me: *sobs for half a chapter* Wait, that's it? Champion made me cry for days, dude. YOU CAN DO BETTER!
The Young Elites: Well sorry, Ms. Bossypants. I'm not a perfect book! *grunts* *walks across the room* *sits on my shelf*
And that, my friends, is my story. But here's a quick overview if you guys didn't understand: The Young Elites was a very dark read, maybe a bit too dark for my taste. I guess this led to the lack of feels for me as well, which is disappointing since all of Lu's other books had huge impacts on me. Those aside, this book was still a work of genius. I love the world, the characters and the writing. Despite some minor qualms, I still enjoyed this book. Clearly, Marie Lu is a literary genius.
Liked this review? You also find it on 
Goodreads
.
…
About Aimee
Aimee loves being a little bookworm (okay–she doesn't like being little). She also loves chocolates and sweets but is freaked out by the thought of possibly getting diabetes.