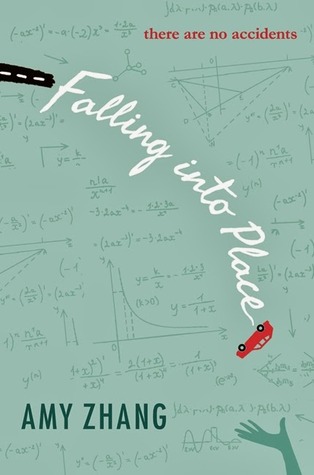 Falling into Place by Amy Zhang

published on September 9th 2014 by Greenwillow Books
Young Adult | Contemporary | Realistic Fiction
find the author on
Goodreads | Twitter | Website
find the book on
Goodreads
On the day Liz Emerson tries to die, they had reviewed Newton's laws of motion in physics class. Then, after school, she put them into practice by running her Mercedes off the road.
Why? Why did Liz Emerson decide that the world would be better off without her? Why did she give up? Vividly told by an unexpected and surprising narrator, this heartbreaking and nonlinear novel pieces together the short and devastating life of Meridian High's most popular junior girl. Mass, acceleration, momentum, force—Liz didn't understand it in physics, and even as her Mercedes hurtles toward the tree, she doesn't understand it now. How do we impact one another? How do our actions reverberate? What does it mean to be a friend? To love someone? To be a daughter? Or a mother? Is life truly more than cause and effect? Amy Zhang's haunting and universal story will appeal to fans of Lauren Oliver, Gayle Forman, and Jay Asher.
"Liz looked back and counted the bodies, all those lives she had ruined simply by existing. So she chose to stop existing."
Liz Emerson made so many terrible things in her life and one day, everything just caught up to her. So, she planned her suicide. She crashed her car and made it look like an accident.
This was not a bad book. No, not at all. In fact, I do recommend it. But.. it wasn't a favorite of mine. I might probably not read it anymore.
First, it was because I didn't really connect with any of the characters. I felt sad for Liz. Really. But that's about it. No deep feelings other than that. Sometimes, also my sad feelings towards her also went away because she was really mean. I was never a fan of bullies. Actually, after I read this book I was like, "Oh. Uhm okay." and shrugged. For me, it was one of those you admired while reading but will probably forget when you're reading another good book.
"I wish second chances were real."
Second, I don't agree that it's too late for Liz to correct her mistakes. She thought she deserves to just cease existing because she had done so many horrible things but that's just plain wrong. No one is there to told her that though. They didn't really see a dying soul inside her. They didn't bother. And it made me angry for some reason.
Lastly, the ending really confused me. I actually read the epilogue for like, three times for it to make sense. I had so many guesses about who's telling the story but I don't think I got it right because I STILL DON'T KNOW EXACTLY WHO IT WAS. Or I wasn't so sure.
Here was my list of guesses:
1. Maybe it's Liz' conscience.
2. Maybe it's Liz and it was like a diary written by her and is told because she will live after all the surgery stuffs (though how is that possible if she's in a coma?!)
3. Maybe it was like another lovesick guy and he was being stalkerish and that was really creepy
4. Maybe Liz has a twin and she died and she's still around to tell the story and this theory is really insane
5. Maybe it's Liz' father?
I don't know. I still don't know. -_- And if anyone would just be kind enough, please tell me in the comments section who it was. haha.
People who read this book can't deny that it's absolutely well-written though. It has the feel of having the hairs on your arms stand up. Of making you really think about many things about life. One thing I loved about books is if it makes you think.
The lesson to be learned from this one is this: Always, always be mindful of your actions because you'll be surprised how their consequences affect you or other people around you.
"She finally figure out that she, Liz Emerson, was the equal and opposite reaction. She was the consequence."
This was a very beautiful debut but I think it just wasn't for me. I can see why so many people would love this one but I guess, I'm just looking for something different.
About Margarita
Margarita loves writing reviews to let out her feels and rants. She can be very shy but when you get to know her better, she's really a pretty outgoing person!