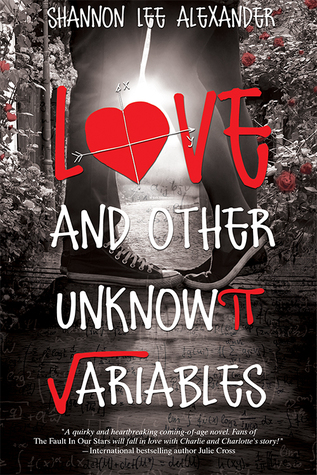 Love and Other Unknown Variables by Shannon Lee Alexander
published on October 7th 2014 by Entangled: Teen
romance | contemporary
find the author on
Goodreads | Twitter | website
find the book on
Goodreads
Charlie Hanson has a clear vision of his future. A senior at Brighton School of Mathematics and Science, he knows he'll graduate, go to MIT, and inevitably discover solutions to the universe's greatest unanswered questions. He's that smart. But Charlie's future blurs the moment he reaches out to touch the tattoo on a beautiful girl's neck.
The future has never seemed very kind to Charlotte Finch, so she's counting on the present. She's not impressed by the strange boy at the donut shop—until she learns he's a student at Brighton where her sister has just taken a job as the English teacher. With her encouragement, Charlie orchestrates the most effective prank campaign in Brighton history. But, in doing so, he puts his own future in jeopardy.
By the time he learns she's ill—and that the pranks were a way to distract Ms. Finch from Charlotte's illness—Charlotte's gravitational pull is too great to overcome. Soon he must choose between the familiar formulas he's always relied on or the girl he's falling for (at far more than 32 feet per second squared).
–
I want infinity, even though I know I can't reach it.
I wasn't sure about what to expect when I went into Love and Other Unknown Variables. I was thinking of a fun, quirky and easy read. In a way, I guess this book did deliver.
Charlie's a huge nerd, and it was easy to find him endearing enough. For crying out loud, he still recites the Periodic Table of Elements while he brushes his teeth–weird, but definitely cute. He also has an ambition and he's passionate about it, which not a lot of male characters are these days.
If you want to fall in love, then fall.
Truth be told, I was a bit indifferent to the romance. I did like how Charlie did these adorable things to show his affection, but I just couldn't feel a huge connection between him and Charlotte. She was an odd one, showing up at Charlie's door during the most random times, and it was a bit creepy sometimes. When he thought of her, suddenly she was there.
Charlotte had a lot of problems of her own, and it was cute how Charlie felt like he needed to help her solve them. There was this whole business with making Charlotte's sister's life miserable to take her attention off Charlotte, and I wasn't a fan of it. I thought this plan was tactless, stupid and completely pointless. Why not let your sister show you how much she loves you?
It's not enough to be your best. You need to be someone else's best, too.
The romance aside, this book also explored a lot of different kinds of relationships.
In the first half, we focused a lot on the very tight friendship between Charlie and his two best friends (who I just loved as a couple). They were both really supportive of Charlie and pushed him to come out of his shell. They also had quirks of their own. They also had a small falling-out, which made their friendship even more solid and realistic.
The second half gave us an insight to Charlie's relationship with his sister. They weren't very close before Charlotte showed up, but they started to realize how much they needed and loved each other. They became each other's pillars to lean on when they needed it most.
Simply put: time is fluid. The faster your world spins out of control, the slower timer crawls. The more time you need, the less you're sure to get. It's all relative.
Shannon Lee Alexander's writing is of the same style as popular authors such as John Green and Rainbow Rowell. Fans of both authors will probably get into Alexander's book with ease.
Overall, Love and Other Unknown Variables has a lot of potential to become the next big thing. With its nerdy cast and simple story, plenty of readers will find themselves drawn into this passionate novel.
Liked this review? You also find it on 
Goodreads
.
…
About Aimee
Aimee loves being a little bookworm (okay–she doesn't like being little). She also loves chocolates and sweets but is freaked out by the thought of possibly getting diabetes.