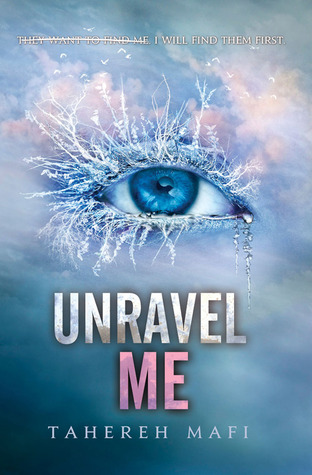 Unravel Me by Tahereh Mafi
Shatter Me, book 2
published on February 5th 2013 by HarperCollins
dystopia | romance | fantasy
find the author on
Goodreads | website
find the book on
Goodreads
Juliette has escaped to Omega Point. It is a place for people like her—people with gifts—and it is also the headquarters of the rebel resistance.
She's finally free from The Reestablishment, free from their plan to use her as a weapon, and free to love Adam. But Juliette will never be free from her lethal touch.
Or from Warner, who wants Juliette more than she ever thought possible.
In this exhilarating sequel to Shatter Me, Juliette has to make life-changing decisions between what she wants and what she thinks is right. Decisions that might involve choosing between her heart—and Adam's life.
–
*This review may contains spoilers for Shatter Me.
I read Shatter Me a couple of years ago and absolutely loved it! There was something really intriguing about a girl whose touch can kill. However, I was a bit hesitant to read this because Aimee said that Adam becomes a moody bitch here. It wasn't really all that bad, though.
As usual, the plot is about a character who thinks that the world revolves around herself. It tackles a lot of the questions left unanswered in Shatter Me, like how Warner is able to touch Juliette and what the hell Omega Point is. The flow and chronology of events were well planned and there were no plot holes (that I could think of). All in all, the plot was pretty close to perfect!
Although, the characters were a bit problematic. I have no idea if Miss Tahereh Mafi intended Juliette to be a whiny brat, but she was, especially in the first part of the novel. It got corrected throughout the events in the book though, so it doesn't really bother me as much as it did when I first finished the book.
Adam was a different story! I liked Adam in the first book, because he was strong, loyal and cares for Juliette a lot! In Unravel Me, though, he really did become a moody bitch! His emotions were all over the place, and he became the typical angsty teenager present in almost all young adult novels.
I tried. I really honestly tried to hate Warner, but I don't! (Sorry Aimee!) It's just that Warner has changed so much! He became the guy that could actually take care of Juliette, because Adam is too busy moaning about how unfair life was! I loved how Mafi portrayed him to be a character who looks to have no imperfections, but in reality has a lot of flaws. He was a character who may seem conceited, but was just looking for the approval of everyone around him.
The other characters were nicely developed and can be distinguished by their own sets of personalities. I especially liked Kenji! He's my dream brother! He's funny and loves to tease people, but knows when to take things seriously.
The romance was a little chaotic! There was so much going on with both Adam and Juliet, and Juliet and Warner. I, personally, am more of a Warner fan! The romance between them had a lot more substance. Even though they're on completely different sides, they somehow love each other. It just makes me swoon!
I usually really, really hate choppy writing like in the novel Invisibility by Andrea Cremer and David Levithan, but I like how Mafi does it. It kind of makes the text so much more emotional, I guess? I can't really explain it, point is, it was really emotional and intense!
All things considered, this was a great and well executed book! I know that this book has a lot of haters (i.e. Aimee) but I'm just not one of them.
4.5 skulls
Are you a Tahereh Mafi fan? Do you plan to check out her books?
About Dyan
Dyan has the tendency to get irritated with most heroines. It's just something she's always been really over-analyzing. She tends to like the heroes/love interests more.