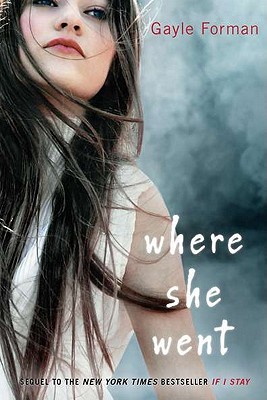 Where She Went by Gayle Forman
published on January 1st 2011 by Dutton Juvenile
romance | contemporary
find the author on
Goodreads | Twitter | website
find the book on
Goodreads
It's been three years since Mia walked out of Adam's life.
And three years he's spent wondering why.
When their paths cross again in New York City, Adam and Mia are brought back together for one life-changing night.
Adam finally has the opportunity to ask Mia the questions that have been haunting him. But will a few hours in this magical city be enough to lay their past to rest, for good – or can you really have a second chance at first love?
–
"If you stay, I'll do whatever you want. I'll quit the band, go with you to New York. But if you need me to go away, I'll do that, too… And that would suck, but I'd do it. I can lose you like that if I don't lose you today. I'll let you go. If you stay."
I dived into this book feeling giddy because at last! I can read something without distractions. But.. this book.. *sigh*.. it made me very.. sad? No. That's not the right word for it. I was heavyhearted. I can't seem to understand why but, I feel like there's this gloomy aura surrounding me while I was reading this book. Why the hell did I choose this book to read?? BUT. I did not regret reading this. It was such a great reading experience even with the mournful feeling it gave me.
This book started 3 years after "If I Stay", with me seeing Adam pretty much devastated. He's not living. He's just surviving. I was really surprised. I mean, why are Adam and Mia not together?! They weren't together since Mia left for Juilliard. Anyway, after all those time, Mia was totally different. I know she'll never get over what happened to her but she's doing so much better than before now. But yeah, Adam was a different story. He's not just hurting. He IS pain.
What I loved about this book is the relationship between Adam and Mia. What they have is deep and profound that I'm quite amazed that they have it at such a very young age. I am quite jealous really. Their love is something most people wished to have. And that is why it hurt me seeing Adam like the way he was in the book. I can't imagine what must that felt like, seeing that he brought all of this pain to himself. But still, my heart broke for him..
Anyway, I also freaking love the writing. Ms. Gayle Forman is so bloody brilliant that I'm certain this won't be the last book by her that I'll read. Her writing is heartfelt and I really felt a connection with the characters. It is so rare for authors to make their readers feel what their characters are experiencing.
"Hate me. Devastate me. Annihilate me. Re-create me. Re-create me. Won't you, won't you won't you re-create me."
This book broke me, shattered my heart into little pieces and then mend it back together. I liked If I Stay but I LOVE Where She Went. I feel like I can't give this book a review that will give it justice. I know a lot of people already read this one but if you haven't yet, please get on with this series. It will be a reading experience that will leave you absentmindedly saying "wow".
Are you an If I Stay fan? Do you plan to read this duology?
About Margarita
Margarita loves writing reviews to let out her feels and rants. She can be very shy but when you get to know her better, she's really a pretty outgoing person!