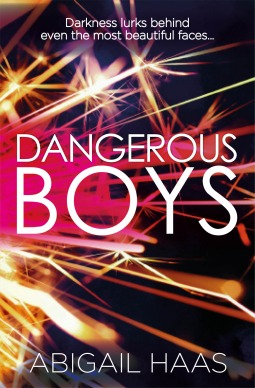 Dangerous Boys by Abigail Haas
published on August 14th 2014 by Simon & Schuster UK
mystery | contemporary | thriller
find the author on
Goodreads | Twitter | website
find the book on
Goodreads
Three teens venture into the abandoned Monroe estate one night; hours later, only two emerge from the burning wreckage. Chloe drags one Reznick brother to safety, unconscious and bleeding; the other is left to burn, dead in the fire. But which brother survives? And is his death a tragic accident? Desperate self-defense? Or murder?
Chloe is the only one with the answers. As the fire rages, and police and parents demand the truth, she struggles to piece together the story of how they got there-a story of jealousy, twisted passion, and the darkness that lurks behind even the most beautiful of faces…
–
Now is the time to put away childish things…
Listen to our narrator Chloe, dear readers! Put away all childish things such as work, homework and chores–and PICK UP ANY ABIGAIL HAAS BOOK, NOW. Okay, maybe I wasn't the biggest fan of Dangerous Boys, but I can't deny that it is a fantastic book. I just didn't love it as much as I loved Dangerous Girls (my review here).
How can I convince you to read Dangerous Boys?
Chloe, Ethan and Oliver will leave you grasping at the edge of your seat with their raw and intense story. These three characters just have so much depth to them, and you will love them and hate them all at the same time. They'll leave you confused and hanging–but in a good way, of course.
I was actually NOT expecting the book to end the way it did. Neither did I anticipate WHY a certain someone did what s/he did. I can always count on Abigail Haas to turn my brain into jelly.
If you've been looking for a heart-stopping read that will probably cause all of your nails to suddenly shrink because you bit at them too much–Dangerous Boys is what you need. Or you know, either of Abigail Haas' books.
Why the hell did I not give this book 5 stars?
While this book was great in terms of technicalities, I wasn't as invested in the story as I was with Dangerous Girls. Maybe it's because of the length of the book? Was there not enough pages for me to really get into the characters?
Maybe it was because Chloe really turned me off at first–it wasn't until the second half of the book where I was really flipping pages to see how this story ended. Oh, and I thought the romance with Ethan happened too fast and didn't have enough development.
What I'm trying to say is…
READ THIS BOOK. Minor bad points aside, this is worth the read, trust me.
*Thank you very much to Abigail Haas for providing me with an eARC!
Liked this review? You also find it on 
Goodreads
.
…
About Aimee
Aimee loves being a little bookworm (okay–she doesn't like being little). She also loves chocolates and sweets but is freaked out by the thought of possibly getting diabetes.