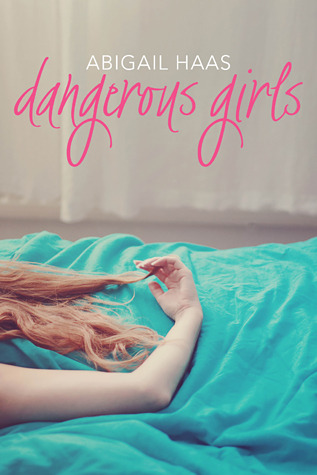 Dangerous Girls by Abigail Haas
published on July 16th 2013 by Simon Pulse
mystery | contemporary | thriller
find the author on
Goodreads | Twitter | website
find the book on
Goodreads
It's Spring Break of senior year. Anna, her boyfriend Tate, her best friend Elise, and a few other close friends are off to a debaucherous trip to Aruba that promises to be the time of their lives. But when Elise is found brutally murdered, Anna finds herself trapped in a country not her own, fighting against vile and contemptuous accusations.
As Anna sets out to find her friend's killer; she discovers hard truths about her friendships, the slippery nature of truth, and the ache of young love.
As she awaits the judge's decree, it becomes clear that everyone around her thinks she is not just guilty, but dangerous. When the truth comes out, it is more shocking than one could ever imagine…
–
*This will be a not-really-a-review review. GIFs included.
I'm not exactly sure how to review this. I'm not a big reader of thrillers/mysteries, so I really didn't know what to expect going into this one. But let me tell you: my mind has been fucked. Almost everyone who read and loved this has the phrase "mindfuck" or something similar in their reviews.
Anyway, I'll try to keep this review as spoiler-free as I possibly could. This is not a book where you'll want to be spoiled.
"Wouldn't we all look guilty, if someone searched hard enough?"
This book is dangerous–dangerously eerie and dangerously addictive. From the moment I opened the first page, I couldn't put this book down. Until now, I'm unsure of why I just had to keep flipping pages, but it's most likely due to the sheer excitement of finding out what the hell really happened. Here's probably how you will react to reading Dangerous Girls:
The Beginning. You read the first chapter of the novel. After the first chapter, your eyebrows will scrunch up. You'll be intrigued. Very intrigued. Possibly already creeped out, like me. (I mean really, that is one way to start a book.)
The Middle. You flip the pages. And flip. And flip. You can't get enough of the story and the possibly-evil and possibly-innocent characters. You suspect EVERYONE. No one can be trusted. You start think that you know who the murderer is, but then you suddenly find out that you're wrong.
You'll probably guess who the murderer is somewhere near the ending, but that doesn't stop you from your inevitable reaction to the ending.
The End. Your heart beats rapidly. You want to scream, but instead your eyes just bulge, and your breath gets stuck in your throat. Goosebumps rise on your arms as everything unfolds.
And that, dear friends, is what will happen to you when you read this book.
Liked this review? You also find it on 
Goodreads
.
…
About Aimee
Aimee loves being a little bookworm (okay–she doesn't like being little). She also loves chocolates and sweets but is freaked out by the thought of possibly getting diabetes.