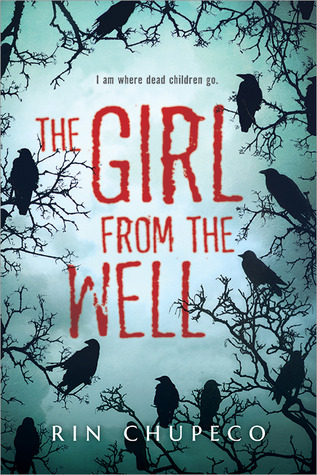 The Girl from the Well by Rin Chupeco
published on  August 5th 2014 by Sourcebooks Fire
Young Adult | paranormal | retellings
find the author on
Goodreads | Twitter | website
find the book on
Goodreads
You may think me biased, being murdered myself. But my state of being has nothing to do with the curiosity toward my own species, if we can be called such. We do not go gentle, as your poet encourages, into that good night.
A dead girl walks the streets.
She hunts murderers. Child killers, much like the man who threw her body down a well three hundred years ago.
And when a strange boy bearing stranger tattoos moves into the neighborhood so, she discovers, does something else. And soon both will be drawn into the world of eerie doll rituals and dark Shinto exorcisms that will take them from American suburbia to the remote valleys and shrines of Aomori, Japan.
Because the boy has a terrifying secret – one that would just kill to get out.
–

Let's get one fact straight: I am a huge wuss. I hide behind pillows during horror movies and force people to come with me when I walk into dark rooms. I am freaking scared of dolls. Those Barbies I collected as a kid? I want to throw them all out the window. But after reading my first horror book, Anna Dressed in Blood, I thought I wasn't going to be as scared. Well, ha ha to myself.
That was my reaction throughout the book. I was happily enticed by all the mythology and Japanese history, and then… BAM! Something creepy comes along and just makes me have a mini heart attack.
So non-horror peeps, step aside. This book might make you pee in your pants.
The first thing I need to warn you about, horror aside, is that Chupeco's writing isn't average. It isn't the "lyrical" or "poetic" writing that some authors go for. This one is… edgier. It would definitely depend on the reader's preferences, but personally, I thought Chupeco's writing added to the overall creep-factor of the book. And it's both in third and first person, if I remember correctly.
"Even then I found the word fitting, soothing.
Fireflies.
Fire flies.
Fire, fly."
Creepy, no? That snippet gives me the chills. Am I the only one picturing a Japanese ghost saying that with a wicked smile?
I didn't know a lot about Japanese horror stories going into this book, and I absolutely loved learning about them and possibly scarring myself for life. The Girl from the Well is the story of a ghost and a boy. Thinking of a love story? Well then you're absolutely wrong. There is nothing lovely and endearing about this story. It's all blood, gore and shocking revelations.
All of the scenes were so bloody and graphic. Horrific. I mean, apparently murder victims are tied to their murderers until Okiku (our ghost) sets them free through a very traumatizing process. This ghost hangs on the ceiling making gurgling sounds, for crying out loud. Okiku is such a strong and vengeful girl, but she does have good intentions most of the time.
Tark is our boy. I'll admit, most of the time he came off as immature to me (nothing he did was immature, per se, but his voice was just a bit off). I found it hard to like him at first, but I guess I loosened up by the end and was completely okay with him. He's definitely in a rough situation, and it was nice to see how he tried to stay strong through it.
I do have the tiniest complaint about the plot, though. It seemed like the whole thing with Tark was just too extravagant. I did like the creepy doll ceremonies (well, I didn't like them, but they creeped me out, so that's good) and all the rituals they performed, but the actual problem was really weird for me.
*minor spoiler*
Scared of possible favorite characters getting killed off? Well, Chupeco does this in a way that's like ripping a band aid off quickly and with force. One minute they're helping out, and in the next… bye bye.
*end minor spoiler*
Anyway, if you're feeling brave and would like to try out a very well-written and well-crafted horror story, be sure to give this one a shot. And leave the lights on.
Liked this review? You also find it on 
Goodreads
.
…
About Aimee
Aimee loves being a little bookworm (okay–she doesn't like being little). She also loves chocolates and sweets but is freaked out by the thought of possibly getting diabetes.