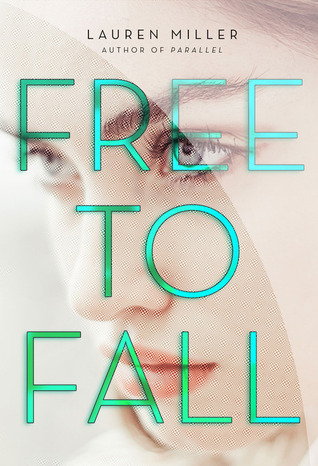 Free to Fall by Lauren Miller
published on May 13th 2014 by HarperTeen
Young Adult | science fiction | romance
find the author on
Goodreads | Twitter | website
find the book on
Goodreads
What if there was an app that told you what song to listen to, what coffee to order, who to date, even what to do with your life—an app that could ensure your complete and utter happiness? What if you never had to fail or make a wrong choice?
What if you never had to fall?
Fast-forward to a time when Apple and Google have been replaced by Gnosis, a monolith corporation that has developed the most life-changing technology to ever hit the market: Lux, an app that flawlessly optimizes decision making for the best personal results. Just like everyone else, sixteen-year-old Rory Vaughn knows the key to a happy, healthy life is following what Lux recommends. When she's accepted to the elite boarding school Theden Academy, her future happiness seems all the more assured. But once on campus, something feels wrong beneath the polished surface of her prestigious dream school. Then she meets North, a handsome townie who doesn't use Lux, and begins to fall for him and his outsider way of life. Soon, Rory is going against Lux's recommendations, listening instead to the inner voice that everyone has been taught to ignore — a choice that leads her to uncover a truth neither she nor the world ever saw coming.
–
I was supposed to buddy-read this one with my good (very fangirl-y) friend Kayla, but she went ahead and left me panting in the dust. But that's fine! *hugs Kayla* You can check out her awesome review right here.
"Don't exchange the truth for a lie."
When I started this book, I was expecting a huge amount of flailage, feels and fangirl squealing to come as I read. While that didn't go as planned, Free to Fall still did leave me going "What the fuck is happening?" a load of times throughout the course of the book. Even if I wanted to, I couldn't possibly mark this one as a DNF because I needed to know how it ends!
Free to Fall had its fair share of ups and downs for me. The heroine, Rory, is an example of this all on her own. There were times where I would like to give her a standing ovation, but sometimes I wanted to kick her in the shins, you know? Maybe shove some chopsticks up her nose or something. I'll try to give a few examples:
> A good point: Rory wasn't afraid to use people. She manipulated people to her own advantage. While this is definitely not a desirable quality, it's definitely realistic. She didn't hurt anyone to gain anything, but she might have pretended to be nice in order to get what she wanted.
> A bad point: This girl, apparently, does not like having a social life. Apart from her roommate and her boyfriend, she tries to avoid her other friends. Who are actually pretty nice. I really feel bad for these nice-but-kind-of-creepy girls. If you don't like them, tell them instead of avoiding them.
> A point that is both good and bad: Rory was no clueless little Barbie. She had the brains I wish I had but probably never will. It did get bothersome how she was able to solve all the problems so quickly, but I guess that made her unique. We are all sick of the clumsy, idiotic main characters, right?
The other characters were balanced out. There were a few I couldn't give the smallest crap about, but some who I really wanted to know more about. Rory's parents also had an interesting past, and I was disappointed when their backgrounds were cut a bit short. I would've liked the author to elaborate more on those, since their pasts do play a big part in the story.
"The fool is destined to repeat history. The wise man has the wit to avoid it."
The actual plot had a lot going on. It might have come off as a bit too extravagant at times, but I was really curious about everything that was happening. The whole thing with Lux, Thaden Academy and whatever other creepy stuff happened–I wanted to know everything. I guess the thriller aspect is what kept me from putting this book down and giving up on it.
While I would love to praise the plot some more, it will eventually branch out to one of the minor plots: the romance. I could not stand this romance. North, the love interest, came off (to me, at least) as a creep. On the FIRST DAY THEY MET, he downloaded Rory's personal profile and record. Does this not scream stalker to you guys? Because honestly:
Lauren's writing style was easy to read. I found myself flipping pages and reading smoothly. I wasn't really able to connect with Rory all that much, but I did get a sense of character and how she thought. Bonus points because this book has a lot of quotable quotes, too!
Okay, I need to dedicate a paragraph to the ending. I'm not sure if I was shocked with all the revelations or not. I think I would have been, if Rory didn't discover them so quickly on her own. She discovered secret after secret so rapidly that I didn't have a lot of time to process what the hell was going on sometimes. This one ended in a mind-fuck-y manner, but again, I wasn't very affected by this one.
If you want to be creeped out by a realistically possible future, you might want to check this out. When I start imagine how this could actually happen to us some day–*shudders*. I don't even want to think about it.
About Aimee
Aimee loves being a little bookworm (okay–she doesn't like being little). She also loves chocolates and sweets but is freaked out by the thought of possibly getting diabetes.