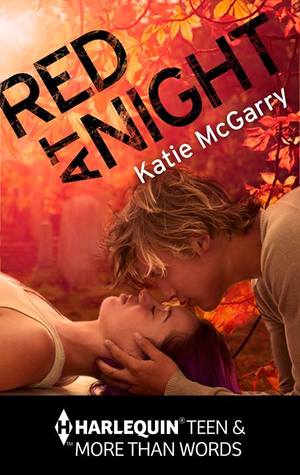 Red at Night by Katie McGarry
published on April 1st 2014 by Harlequin Special Releases
Young-maybe-new Adult | Contemporary | romance
find the author on
Goodreads | Twitter
find the book on
Goodreads
In Red at Night, Stella and Jonah are total opposites. She's the girl with purple hair from the wrong part of town. He's a high school senior who hangs with the cool crowd. Until a car accident leaves him haunted by guilt, and Jonah starts spending time at Stella's favorite refuge…the local cemetery.
Stella knows she should keep her distance—after all, she spent her girlhood being bullied by Jonah's friends. Once he's sorted out his tangled emotions, Jonah won't have time for her anymore. Too bad she's already fallen for him.
–
This is the part where you all glare at this review through your screens because this is the first work I've completely read by Katie McGarry. (I'm going to get an umbrella in case you guys want to virtually throw tomatoes at my face.)
Okay, so, this is probably one of those books where your perspective and interpretation of the book will greatly affect whether you'll like it or not. Sadly, I've interpreted things in a bad way.
Anyway, I thought Red at Night is one of those books where a lesson or two can be learned and realized. The sad thing is, I was basically half-asleep while reading and just wanted to shove forks up the characters' throats for almost the entire book.
"Don't you dare ever hope for more. There's no such thing as living happily ever after or pulling yourself up by your bootstraps. The world is how it is and there always has to be bottom-feeders."
This book put so much negativity and hopeless thoughts inside my brain. All Stella could think about was what a shitty life she had/has. Come on, girl. Everyone has problems, but we also look at the bright side of things, right? I found it really difficult to connect with her because of the bad vibes that just seemed to radiate off her. Also, I thought her character was really weak and she just basically gave up on everything so quickly. Maybe some of you could say Stella's this way because she's a realistic character… I would disagree. There is such a thing as TOO MUCH negativity.
Ah, and I hated how disrespectful she was to the people who were trying to help her. Look at this:
"Know what, if it'll keep you off my back, you do what you need to do and I'll do what I need to do. Until then, stay away from me."
This just makes me really sad. But yes, I know a lot of teens are disrespectful to their elders. This scene really threw me off guard, though.
Jonah was an odd character. I couldn't really understand his intentions or his thoughts all that well. He was a "complex" character whose thoughts and emotions were seriously jumbled up and all over the place. I don't think any of Jonah's actions or words are ever justified. You can't expect me to be okay with this!
So, this book taught me a new formula: 1 toxic/negative girl + 1 confusing guy = a whole lot of angst and a generic love story. Everything about the book just seemed bland. We've seen it all before. Also, nothing/no one's ever given a proper backstory. I understand that this is just a novella with 80-something pages, but I want to know WHY things and people are the way they are.
The writing style was just okay. I didn't get a lot of substance out of it (okay, let's say ZERO feels), but I guess I can see why Katie has a lot of fans. Oh, and I really appreciate how Katie inserts some realistic little life tidbits every now and then (like having that ONE teacher who gives a test on the first day), where I just scream, "I know! That happens to me, too."
I still do want to try out Katie's other works, since I believe that this may be her weakest considering she crammed an entire story into 80+ pages only. Her full-length works are bound to be better, right?
---
Basically:

You're a fan of Katie McGarry? Read this one. Not a fan or haven't read from her? Definitely don't start with this one. Try out something else by the author. That's definitely what I should've done. Now I have a slightly bad impression of the author. Damn my poor judgement of picking what books to read first!
1.5 skulls
Are you going to throw tomatoes at me since this is my first Katie McGarry read? Are you a KM fan?
For some odd reason, Aimee's completely fine with the way too fast pacing in short manga, but when they happen in short stories or novellas, she just gets really pissed off.