Set in a world where love is deemed illegal and can be eradicated with a special procedure. With 95 days to go until her scheduled treatment, Lena Holoway does the unthinkable, she falls in love.
*This is, I think, a spoiler-free reaction-review for the Delirium pilot and book.
–
THE BOOK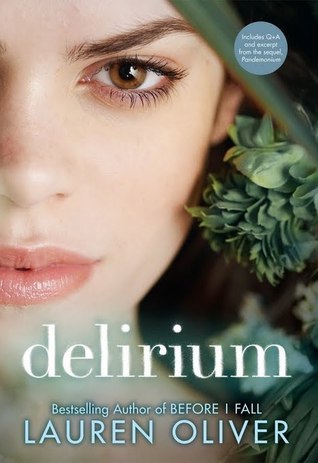 I wasn't the biggest fan of Delirium. I've read the first two books in the trilogy, but neither really got me as invested in the story as I wanted to be.
Let's put it this way: Delirium had a very lovely concept. What teen/adult wouldn't want to read about love being a disease? I thought the idea was fresh and would be gobbled up by YA readers everywhere.
But the narration and writing were both so flat for me. I couldn't connect with any of the characters. And then the twist at the end broke my heart–of course I had to pick up the sequel, Pandemonium. Now, Pandemonium had an unnecessary love triangle that mad me want to rip my hair off my head.
I still haven't picked up Requiem, since I've heard some not-so-great things about the ending. I'd prefer to just imagine the end for myself, thank you very much.
THE PILOT EPISODE
I really wish I could've filmed myself while I was watching the pilot, since I made all these snarky remarks that won't be as fun to read about in this post. x_x But that's okay! I don't like seeing myself in videos, anyway.
If we're being honest here, I was never a fan of Emma Roberts. I guess it didn't surprise me that I found her narration to be quite boring. Of course, you could think differently about that if you're a fan.
So, let's talk about the pilot as a visual. I basically was laughing and rolling my eyes while watching this one. Angles were really bad–seriously. There were some unnecessary and slightly disturbing (not in a disgusting way–more of an annoying way) close-ups that made me cringe. Lighting was just wrong for some scenes as well. Basically, it looked a bit low-quality visually. How can you not laugh at this:
You didn't? Okay, maybe I'm just really weird. Oh, I laughed at this angle as well. Her whole body's not even moving and it's kinda creepy:
The acting was pretty bad for me and I couldn't get any substance out of it. Everyone was just kind of monotonous and emotionless. I was getting a Bella feel from Lena. Alex was physically attractive, but he had zero charisma. I wouldn't mind a not-very-handsome lead, as long as he could give off the right amount of charm. Hana was kind of unemotional as she talked, but I did really like her voice. Oh, and here's Julian's confused face:
He kind of looks more constipated than confused, don't you think?
Another thing I wasn't expecting was to have THE ENTIRE FIRST BOOK in one episode. If this is a pilot, what would they have done to the rest of the episodes? Books 2 and three? Great, now they have 3 episodes. Then again, IMDB listed this as a "TV movie"…
I had a huge problem with the ending. Delirium's ending was a powerful one, and this episode rushed it way too much. There was no emotion whatsoever coming from the actors included in the scene, and it was as if I didn't give a crap about what happened to any of them anymore. Come to think of it, this entire pilot was rushed.
THE PILOT
Have you read Delirium or watched the pilot? Talk about it with me. We shall discuss!
About Aimee
Aimee loves books. And chocolate. Lots and lots of chocolate. Reading books while eating chocolates! Yes, that would be absolutely lovely.