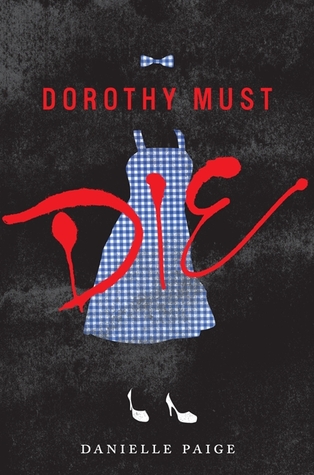 I didn't ask for any of this. I didn't ask to be some kind of hero.
But when your whole life gets swept up by a tornado—taking you with it—you have no choice but to go along, you know?
Sure, I've read the books. I've seen the movies. I know the song about the rainbow and the happy little blue birds. But I never expected Oz to look like this. To be a place where Good Witches can't be trusted, Wicked Witches may just be the good guys, and winged monkeys can be executed for acts of rebellion. There's still the yellow brick road, though—but even that's crumbling.
What happened? Dorothy.
They say she found a way to come back to Oz. They say she seized power and the power went to her head. And now no one is safe.
My name is Amy Gumm—and I'm the other girl from Kansas.
I've been recruited by the Revolutionary Order of the Wicked.
I've been trained to fight.
And I have a mission.
–
It's pretty obvious why this one was a must-read for me, right? A Wizard of Oz retelling where Dorothy is evil… I had to read it. No questions asked. And then I finished it… and was utterly disappointed. Remember my review of Hexed? I kind of felt that the writing in both books were similar, so if you enjoyed one you'll maybe enjoy the other.
So the story's told from Amy Gumm's perspective. Ah, Amy. The first word that comes to mind when I think of her is shallow. She can't listen to any sort of advice or tips to survive, that girl. She just has to do the exact OPPOSITE of what other people told her to. Oh, and, there was this DYING girl–but she doesn't give a shit. She only cares that the guy she likes is tending to said dying girl.
Character development? Where!? All of the characters felt dry and one-dimensional. If they were developed to the slightest bit, they died and we didn't get more from them.
I did enjoy Dorothy Must Die's concept. It's brilliant, right? I loved picturing the graphic descriptions regarding the Lion, the Tin Man and the Scarecrow… Oz is a creepy place and I would not want to live there. Despite the amazing potential the setting and plot had, I think the execution was kind of flat. Although there were the right amount of descriptions, I couldn't get a grasp of how Oz felt like. I didn't get the sense of a magical world with rich characters–rather, I felt like I was reading about a dry desert with a girl who lived alone. Everything just lacked substance for me.
What else–oh, yes. I didn't particularly feel like Dorothy was "evil" at all. She was just like some deranged attention-seeking bitch. And I definitely DO NOT appreciate how her character was portrayed as sort of a slut (a lot of cleavage was mentioned). Nope. Not how I picture an evil Dorothy at all.
"For the Crime of Sass, This Monkey Is Hereby Sentenced to Official Attitude Adjustment. Do Not Tamper. By Royal Order of Princess Dorothy."
Does that sound evil to you? No? Deranged bitch is more like it, right?
Wondering about the romance? HA. Insta-attraction, insta-jealousy–I can't even begin to describe how much this aspect bothered me. This is one of those books that do not need romance to make it interesting, okay? Nox, the love interest, was so boring and predictable. It was obvious that he would be the brooding love interest and that he would eventually like her back–a typical male lead. Nothing special at all.
This book did have those little details that I appreciated, hence my non-DNF rating for the book. For example:
> Characters were realistic and betrayed one another to save themselves. We would probably do that to, if we're being honest.
> Amy didn't magically turn into super-girl during tough situations. She was initially weak and admitted that a life-or-death situation wouldn't suddenly give her super strength.
> There was a good amount of descriptions for me to picture the creepy and disturbing things the people of Oz have become. There was some action and gore as well.
Dorothy Must Die was a waste of potential, if you ask me. So much could have been done with the book, but ultimately it lacked the flair I'm looking for in retellings of my favorite childhood stories.
---
Basically:

Looking for a story to ruin your childhood and turn all you've ever known into something dark? Give this a shot. It's a book you'll either love or hate, though.
1.5 skulls
Have you read from Jennifer Brown before? How do you feel about books that deal with sensitive issues?
Aimee absolutely adores retellings–most of the time. She loves whimsical stories that might ruin her childhood but give her new perspectives on classic stories.