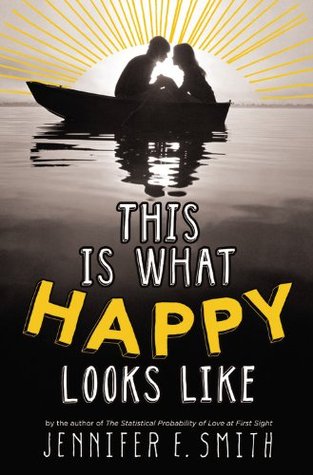 If fate sent you an email, would you answer?
When teenage movie star Graham Larkin accidentally sends small town girl Ellie O'Neill an email about his pet pig, the two seventeen-year-olds strike up a witty and unforgettable correspondence, discussing everything under the sun, except for their names or backgrounds.
Then Graham finds out that Ellie's Maine hometown is the perfect location for his latest film, and he decides to take their relationship from online to in-person. But can a star as famous as Graham really start a relationship with an ordinary girl like Ellie? And why does Ellie want to avoid the media's spotlight at all costs?
–
After reading the synopsis located at the back of The Statistical Probability of Love at First Sight, I was instantly hooked. The concept sounded kind of magical, you know? A purely accidental meeting, the guy travelling across the country to meet the girl, then they live happily ever after! So when the book stooped below my expectations, I was really fucking irritated!
The plot was shallow and pretty simple, but seeing as most contemporary novels are like that, it was okay, I guess. My main issue with the plot was that the problem was really petty. I mean, the problem of the book was basically the relationship of Graham and Ellie. Ellie was really freaked out that the paparazzi who always seem to be lurking around the corner will realize that she was the illegitimate daughter of a senator. I mean, in the grand scheme of things, does she really think that people care that she's the daughter of a politician? I don't know about your countries, but in mine, nobody gives a crap about politicians' personal lives.
Another problem I had with this book, was the writing style. Even in The Statistical Probability of Love at First Sight, I found Jennifer's writing to be bland and over-descriptive.
Another problem I had were the characters. I hated Ellie. At first, I didn't because she was smart and hardworking and sweet. But when Graham came into the picture, she was plagued with paranoia, and she became impulsive and dramatic and very irritating. Graham, aside from his stalkerish tendencies, was okay. The rest of the minor characters, I felt indifferent to. They were underdeveloped and you couldn't really connect to them.
The romance was shit. There wasn't any, a serious one, anyway! I mean, the emails they exchanged were the development, right? But that was ruined by their first official meeting, cause the instalove got in the way! I also couldn't feel the chemistry between them! It was just so, so disappointing!
I think the only thing I like about this book was the ending. Jennifer ended it perfectly. I didn't really yearn for more, yet it wasn't dragging.
Overall, this book was a bust. (For me, anyway.)
---
 A quickie overview:
If you're a fan of Jennifer's work, you could read and love this. If not (maybe you've tried one of her books and didn't enjoy it), you wouldn't. Probably. I think this is one of those reader-and-mood depending reads.
1.5 skulls
Are you a J. E. Smith fan? No? Do you plan to check out her books?
Dyan has the tendency to get irritated with most heroines. It's just something she's always been really over-analyzing. She tends to like the heroes/love interests more.