To find out more about the tour and other stops, go here!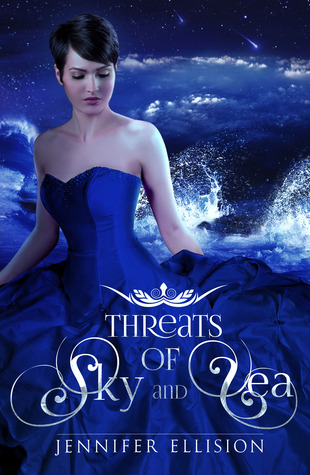 Sixteen year-old Breena Perdit has spent her life as a barmaid, innocent to her father's past and happily free from the Elemental gifts that would condemn her to a life in the Egrian King's army. Until the day that three Elemental soldiers recognize her father as a traitor to the throne and Bree's father is thrown in jail—along with the secrets from his last mission as the King's assassin. Secrets that could help the King win a war. Secrets he refuses to share.
Desperate to escape before the King's capricious whims prove her and her father's downfall, Bree bargains with him: information for their lives. It's a good trade. And she has faith she'll get them both out of the King's grasp with time.
But that was before the discovery that she's the weapon the King's been waiting for in his war.
Now, time is running out. To save her father's life and understand her own, Bree must unravel the knot of her father's past before the King takes his life– and uses her to bring a nation to its knees.
This one caught my eye when I saw it being featured in one of my favorite blogs, so when the blog tour sign-ups were announced, I had to give it a shot. Thank you to Giselle at Xpresso Book Tours and Jennifer Ellision for the opportunity to read this book!
Do you guys remember me ranting about how Throne of Glass didn't live up to my very high expectations? Well, Threats of Sky and Sea was everything Throne of Glass was supposed to be (for me, at least). We have a heroine who I highly respect (I'll even innumerate all the reasons why), lovely relationships between characters, an interesting cast of secondary characters and an intriguing new world.
Let's start with our heroine, Breena. I think she's a character we can all respect and admire, for these reasons and others:
She's resourceful. Don't have a sword or dagger to protect you? You can use anything else! Breena can use a even branches for self defense if she needs to.
She has a conscience. There's a boy being beaten up, and even if Breena knows it'd be better to run, she can't just leave him there to possibly die!
She's snarky and sassy. Yup. Even when the air in her lungs are being beaten out of her.
She's responsible. She started work when she was only twelve!
She knows when it's her fault and when it isn't. You guys know those stupid heroines who think everything's their fault? Breena isn't one of them. She knows when it is and she tries to fix her mistakes, but when things aren't her fault there's no way she's taking the blame.
She said this: "There are times for defiance, but now is not one of them." See, she has brains, too!
I should stop. I guess you guys get the picture, anyway.
"Da and I are business partners."
Another thing I loved was the non-romantic relationships in the story. First off, Breena and her dad just work so well together and I love their father/daughter dynamics. They were equals and treated each other as such (mostly–but I won't spoil anything). Breena also had a wonderful set of friends: Tregle (my favorite character), the sweet one, and Princess Aleta, the one with the half-bitchy-but-actually-friendly attitude.
Non-romantic relationships aside, the romance was actually the part of the story I wasn't able to love. Caden's a wonderful (sweet and caring) character on his own, but I just didn't love the idea of him and Breena as a couple. I might warm up to them in the future installments.
As for the story and world-building, I would like to commend Jennifer Ellison for getting me immersed in her writing and in the world she created. I loved being in the world of elementals and I would love to know more. There were a few parts in the story I wasn't fully sold on, but for the most part, I enjoyed the twists and turns the novel had to bring.
Threats of Sky and Sea was a well-balanced novel with just the right amounts of action, politics and developing relationships. I highly recommend high fantasy fans to pick this one up!
Jennifer Ellision spent a great deal of her childhood staying up past her bedtime with a book and a flashlight. When she couldn't find the stories she wanted to read, she started writing them. She loves words, has a soft spot for fanfiction, and is a master of the fangirl flail. She lives in South Florida with her family, where she lives in fear of temperatures below 60 Fahrenheit.
Win a whole lot of prize packs, copies of the book and swag! (US/Can only)
Have a high fantasy book (YA with a touch of romance would be awesome) you need other to talk about? Recommend it to Aimee! High fantasy is her heaven.