To find out more about the tour and other stops, go here!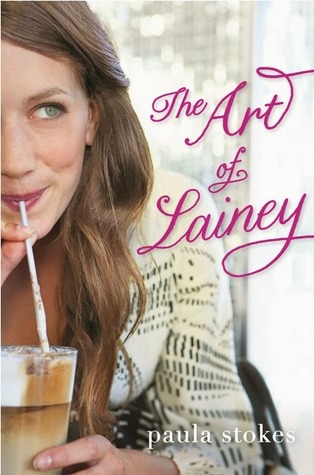 The Art of Lainey by Paula Stokes
published on May 20th 2014 by HarperTeen
contempoary | romance
find the book on
Goodreads | Amazon | Barnes & Noble
To win back the one she loves, she'll have to go to "war."
Soccer star Lainey Mitchell is gearing up to spend an epic summer with her amazing boyfriend, Jason, when he suddenly breaks up with her—no reasons, no warnings, and in public no less! Lainey is more than crushed, but with help from her friend Bianca, she resolves to do whatever it takes to get Jason back.
And that's when Lainey and Bianca stumble across a copy of The Art of War. The girls are sure they can use the military handbook to lure Jason back into Lainey's arms. So Lainey channels her inner warlord, recruiting spies to gather intel and persuading her coworker Micah to pose as her new boyfriend to make Jason jealous.
After a few "dates," it looks like her plan is going to work! But now her relationship with Micah is starting to feel like more than just a game. Can fighting for what she wants help Lainey find what she really needs?
I did already read and review The Art of Lainey on The Social Potato (you can find the review here), so I was eager to find out what Paula had on her mind while writing the book. I was able to ask her (her answers are long, but trust me, they're interesting!):
Me: Have you read The Art of War, or part of it? What made you want to add this element to your story?
Paula: The first time I read The Art of War, it was as a teenager as part of a "List of books everyone needs to read before college." Because I read it on my own, there were a lot of parts I didn't fully grasp. The idea to incorporate it in The Art of Lainey came after I had written a fair amount of the novel. My original plan was for Lainey and Bianca to reject the dating strategies they found online and for Lainey to start her own dating advice website, fake-dating guys in her town and providing advice and encouragement for other lovelorn people via blog posts, her blog eventually going viral. There were a lot of problems with that idea. For one the actual blog posts didn't feel like they were adding much to the story. Then a crit partner pointed out how very much my plot felt like Easy A, which had just come out but I hadn't seen. Then an editor who was actually leading a class I was in pointed out that Lainey fake-dating a lot of guys for money was coming close to advocating prostitution, not to mention that certain things that would work in a movie (like a montage scene of her fake-dating several different guys) would be less effective in a book.
When I altered the plot to focus on just the coffee shop employees and their broken relationships, I wanted Lainey and Bee to base their strategies on something other than internet "get him back" websites. (This is a huge industry, btw, for people who thought Lainey was unrealistic for wanting to win back a guy who dumped her. Google "win back your ex." Even with the quotes there are close to four million hits.) I can't remember the exact train of thought that led me to The Art of War, though I do remember the exact moment because I was going to Lake Michigan with my mom and brother and I brought along a copy of the book to re-read. I suspect it was from previously reading all the Robert Greene books on seduction and power and strategy that basically teach readers to become master manipulators by analyzing the ancient teachings of Sun Tzu and Machiavelli and the behaviors of people like Napoleon and Rasputin.
I read three translations of The Art of War before incorporating it in my book. I also read novels that used it, like Jodi Wing's The Art of Social War and Kelly Roman's graphic novel. I read Chin-Ning Chu's The Art of War for Women and explored critical analyses of Sun Tzu's writings, including doing some research on sonshi.com, the world's largest online Art of War resource. The major issue for me was that I didn't want to misrepresent the source material, but at the same time, two teen girls' interpretation of The Art of War is not going to mirror that of Chinese literature scholars. I tried to balance doing justice to the book with maintaining teen girl voice, and I understand that my balance worked better for some people than for others. Whew, sorry! That got long, huh? :-)
Me: Don't worry, we totally love long-ass answers here at the blog! Now, most reviewers have mentioned how much they loved Bianca. How did you mold her character into who she is?
Paula: It's so funny to me that everyone loves Bianca because throughout the entire writing process all of my crit partners and editors repeatedly called her out for being too Mary Sue. Bee is basically who I was in high school–loyal, very focused on my future, played sports for the fun of it, friends with people from all walks of life. Most of the changes Bee's character went through as I revised were giving her a backstory with Lainey (so readers understood how this friendship stayed strong even as the girls grew in different directions) and toughening her up so she stands up to Lainey when Lainey needs someone to set her straight. I also focused on giving Bee her own life where she doesn't always jump when Lainey needs her. She's basically Lainey's "voice of reason" without being her "faithful sidekick."
Me: Micah's definitely a unique character–do you know anyone in real life like him?
Paula: Micah is kind of an amalgamation of the best parts of several guys I know or used to know, as well as a lot of imagination too. Mostly I wanted to write a book boyfriend everyone would swoon for even though he's not tall or tan and he doesn't have six-pack abs. For me, Micah is the perfect mix of honest and kind, of tough love and support. And he's funny and passionate but still far from perfect. I wanted Micah to be a guy who readers felt like "Hey, I could date a guy like that." Everyone deserves their own Micah.
Me: I would love a Micah. Let's talk about writing: Do you read reviews for your books? Do you think authors should?
Paula: Such a loaded question ;-) I do read reviews, based on my frame of mind at any given moment. Avoiding Goodreads is not an option for me, because my book didn't get a trailer or print ads or a book tour or any of the things that big lead titles get from publishers. Goodreads is THE BEST place for me to get the word out about The Art of Lainey, so I worked hard to get it on GR lists and get it reviewed by big bloggers and basically increase visibility. My next book is a flashy high-concept hardcover, so I might not have to spend quite as much time at GR–we shall see.
Here is why I read reviews:
The very early ARC reviews might bring up major problems that slipped through the cracks and sometimes it's still possible to fix them.
It feels really good to read reviews from people who loved my books. A lot of professional writing is being rejected by editors and conference organizers and trade reviewers and even other authors. I NEED to read those reviews to balance out all of the rejection.
It helps with marketing. When I saw that highly respected reviewer Wendy Darling gave me 4 stars and compared me to Sarah Dessen and Catherine Gilbert Murdoch, I immediately emailed her like "Hi. So glad you enjoyed my book. Can I do a giveaway on The Midnight Garden?" She said yes and that giveaway got tons of entries. I did similar with other reviewers, helping me to build a base of bloggers I can approach to promote future books.
Some of the critical ones help me grow as a writer. I know I'm not perfect. I strive to make each book better than the one before. When I see a number of reviews bring up the same issues, I file that feedback away for future reference.
The truth is almost never as awful as I imagine. There has only been one review that made me feel bad, and this review made unfair and incorrect assumptions about me as a person, based on things my MC says at the beginning of the book before she even goes through her character arc. PSA: authors are not their characters.
Do I think other authors should read them? This is a personal decision. Some people literally crumble and can't be productive after reading mean or critical reviews about their books. I think writers need to weigh the pros and cons and make the decision that is best for them and their careers.
Me: What's the best experience you've had with meeting a fan (or a not-so-fan) of your book?
Paula: My best experience is meeting blogger Nikki Wang in NY in 2012 when I was doing an event as Fiona Paul. She had missed the VENOM ARCs at BEA and was wondering if I knew when more would be given out. I didn't, but I just happened to have an extra ARC on me that I didn't want to pack in my luggage anyway so I gave it to her after she assured me she was 13. *cough* She wasn't ;-) I ended up emailing like "So…if anything makes you uncomfortable (because the book has a risque scene at a brothel) just don't read it, okay?" We struck up a conversation via email and later twitter and now she is a huge supporter and teenspeak resource and inspiration to me. I'm so glad our chance meeting evolved into the friendship we have today!
Paula Stokes is half writer, half RN, and totally thrilled to be part of the world of YA literature. She started out writing historical fiction under a pen name and is now branching out into other YA genres.
When she's not working (rare), she's kayaking, hiking, reading, or seeking out new adventures in faraway lands. She's petted tigers, snuggled snakes, snorkeled with stingrays, and once enjoyed the suction-cuppy feel of a baby elephant's trunk as it ate peanuts from her palm. Her future goals include diving with Great White sharks, learning Krav Maga, and writing a whole slew of novels, not necessarily in that order.
Have you read The Art of Lainey yet? Do you want to?
Aimee appreciates books where friendship and family are both relevant in the main character's life. I mean, they're with us every day, right? We would shrivel up and die without them. (Reference from Love and Other Foreign Words.)