Check out what you've missed in the last month! (This will include some posts from April since we didn't have an April wrap-up!)
• Deadly Darlings celebrated our one year blogoversary! There was some blog and reader love, tips and a giveaway! Check out the full post here.
• We're hosting a reading challenge! Join us here.
• Last April, we attended our first book signing! Check out the wrap-up here.
• We're almost at 500 email followers! Eeeeep! We really appreciate the blog love, guys. *tackle hugs everyone*
Biggest Flirts was your typical high school drama with better, realistic characters who were a bit different from the characters you'd normally read about in contemporary. If you're into something that is totally teen-ish and with a different type of heroine, give this a shot. -Aimee
—-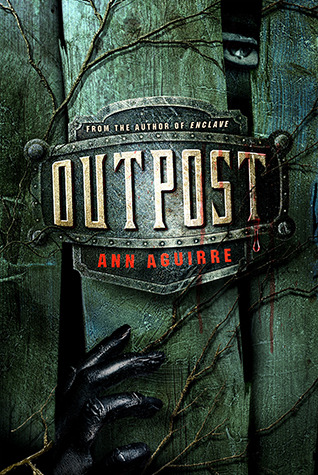 Outpost by Ann Aguirre
review to come, maybe!
My book of the month would have to be Outpost by Ann Aguirre. I loved the first book in the series, so it isn't all that surprising that I loved the sequel! Despite the fact that the plot was a little rocky, and the characters bipolar, the book was great! It was action-packed, had all the Fade feels, and had its very own BAMF. -Dyan
• Played (Hooked, #2) by Liz Fichera | 2 stars |  review
• Seraphina (Seraphina, #1) by Rachel Hartman | 4 stars | review
• Ruby Red (Ruby Red, #1) by Kerstin Gier | 3 stars | review
• Grave Mercy (His Fair Assassin, #1) by Robin LaFevers | 4 stars | review
• Better Off Friends by Elizabeth Eulberg | 3 stars | review
• The Dark World (The Dark World, #1) by Cara Lynn Shultz | 3.5 stars | review
• Biggest Flirts (Superlatives, #1) by Jennifer Echols | 4 stars | review
• Dangerous Creatures (Dangerous Creatures, #1) by Kami Garcia & Margaret Stohl | 2 stars | review
• Let's talk about blogging styles.
• Aimee was tagged in two blogger tags!
• Are you a bookworm? Well…
• Show some new bloggers some blog love!
• If these fictional guys were real… they'd be [x] in my life!
•  Join Aimee in her reading challenge!
Click on the covers to check out these books' Goodreads pages!
Aimee's to-be-published in June wishlist:
Dyan's to-be-published in June wishlist:
Some June Posts:
• Dark Metropolis by Jaclyn Dolamore blog tour (review)
• Threats of Sky and Sea by Jennifer Ellison blog tour (review)
That's it for this month's wrap-up, guys! Be sure to leave links to your monthly/weekly summaries for us to check out!