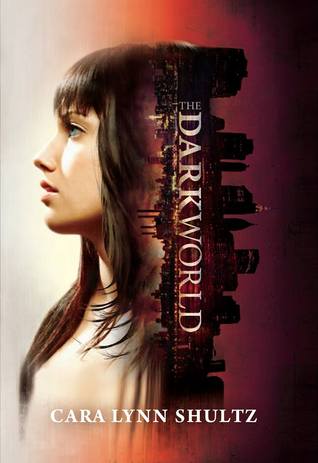 FPaige Kelly is used to weird–in fact, she probably corners the market on weird, considering that her best friend, Dottie, has been dead since the 1950s. But when a fire demon attacks Paige in detention, she has to admit that things have gotten out of her league. Luckily, the cute new boy in school, Logan Bradley, is a practiced demon slayer-and he isn't fazed by Paige's propensity to chat with the dead. Suddenly, Paige is smack in the middle of a centuries-old battle between warlocks and demons, learning to fight with a magic sword so that she can defend herself. And if she makes one wrong move, she'll be pulled into the Dark World, an alternate version of our world that's overrun by demons-and she might never make it home.
–
At first, I wasn't really motivated to read this because to me, the synopsis seemed like a jumbled mess of word vomit! Really, it was as if the whole plot was plastered there, and that there would not be any sort of a twist left. When I finished though, I realized that it was a good enough read!
 "I don't think I'll ever stop falling in love with you."
Lol, I kinda swooned on the spot when I read that line. I'm talking about real movie-worthy swooning!
The romance was quite intense and a bit too quick. Seeing as though, one minute the hero and the heroine were friends, and then BAM! They're sucking each other's faces! It was fine though, because Logan more than made up for it! He was sweet, caring, protective, and an all-around badass! And what he was going to do for Paige in the end…*faints from too much feels*. Normally, I get irritated with romances that are too "sappy", but their romance had some kind of a depth to it, so yeah, I approve!
The characters were very well-developed (most of the time)! Paige was a good enough heroine. She has powers and doesn't take anybody's shit, but she's occasionally stupid.
Now, Logan–I don't even want to explain anymore. The point is, he's perfect! Lol, now that I think about it, every non-fictional Logan that I have encountered, I liked!
The plot was great. The world-building that Cara Lynn Shultz did was just awesome! Demons, warlocks, alternate universe of New York–it was pretty cool! The book was also well-paced and well-written.
The only thing I really hate about this book is its lack of twists. Like I said before, the synopsis just seemed like a summary of the book in itself. Here, there were no gasp inducing twists! It was quite predictable. Guy likes girl, girl likes guy, they fight demons. That's it.
Nonetheless, the book was above average. Not great, but at least it wasn't anywhere near terrible.
3.5 skulls
Let's discuss! Are you interested in hot demon slayers? Interested in this book?