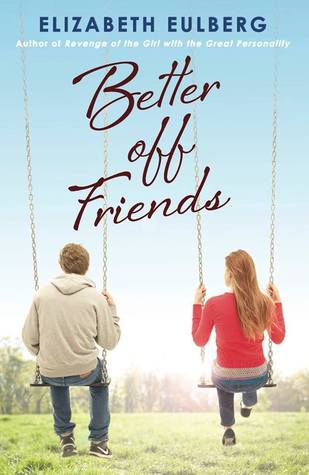 For Macallan and Levi, it was friends at first sight. Everyone says guys and girls can't be just friends, but these two are. They hang out after school, share tons of inside jokes, their families are super close, and Levi even starts dating one of Macallan's friends. They are platonic and happy that way.
Eventually they realize they're best friends — which wouldn't be so bad if they didn't keep getting in each other's way. Guys won't ask Macallan out because they think she's with Levi, and Levi spends too much time joking around with Macallan, and maybe not enough time with his date. They can't help but wonder . . . are they more than friends or are they better off without making it even more complicated?
From romantic comedy superstar Elizabeth Eulberg comes a fresh, fun examination of a question for the ages: Can guys and girls ever really be just friends? Or are they always one fight away from not speaking again — and one kiss away from true love?
–
*Warning: The general plot of Better Off Friends will be explained in this review. Beware!
After seeing so many people rooting for the two main characters, I was more than eager to check this out for myself. To be honest, when I first saw it on NetGalley, I wasn't hugely interested. But when the reviews stating this book was "adorable and lovable," I definitely had to pick it up myself.
You may or may not know that I have a weakness for romances between two best friends. It's like, no matter how bad they really are, I end up enjoying them and wanting the two characters together. Most of the time. Even if it wasn't amazing, I still thought the romance was absolutely adorable. You know those books where you want to scream "JUST KISS ALREADY!" right? This was one of those books.
I love how we were introduced to how Macallan and Levi's friendship began, as well as how it got deeper until they reached the best friend status. Most books focus on the present, but in Better Off Friends, we're taken to the past, and then move on to the present. It was a great way to present development and change.
Now, I did have a lot of peeves about this book as well. Let's start off with the pretty shallow, predictable and very generic plot. There are thousands of YA novels published with this formula:
1. Girl and guy are really close, inseparable friends.
2. Girl and guy get their own boyfriends/girlfriends. (Or maybe just one of them do.)
3. Insert unnecessary drama (A LOT of it) and a time where the two don't talk and/or are in a we're-not-friends phase here.
4. Girl and guy (one before the other, most of the time) realize their feelings for each other but don't want to "ruin their friendship."
5. Girl and guy end up confessing to each other and BAM! There's a happy ending.
And yes. I just summarized the book! So sorry for people who got spoiled. But hey, it was OBVIOUS, right?
Levi and Macallan were both very selfish, immature characters. They snobbed their dates to talk to each other and they flirted with each other even when they had girlfriends and boyfriends. Really, guys? Go do that when you're single, please.
Despite the plot being a formula plot and kind of immature characters, Elizabeth Eulberg made me enjoy the story because of her very fresh good-for-teens writing. It was simple, easy to imagine and made the feels come off the page. Trust me–I cried a lot. In front of my brother. And with all these feels, it was so easy to root for Macallan and Levi together. That ending was not enough.
The book was pretty fun overall, so don't look too much into this when you read it. If you do, you'll probably end up realizing that there were so many annoying things about this. So I suggest checking this up if you're up for a mindless, adorable read. I totally sound like I'm contradicting myself, right?
3 skulls
Let's discuss! Do you have a guy (or girl, if you're a guy) best friend? Have you ever had feelings for him/her? Do you want to pick this book up, or have you?