So today I'll be answering somequestions for TWO wonderful book tags. The first will be The Book Blogger Test and then The Chocolate Book Tag. I'm sorry, but I'm unaware of who started the tags. If you do, please let me know!
The Book Blogger Test
For this one, I'll just be answering some bookish questions. I was tagged by [links will lead to their book tag posts!] Joy @ thoughtsbyj, Dre @ Sporadic Reads, Jules @ Jules Bookshelf and Ella @ The Filipina Booknote! Thanks girls!
1. What are your top three book pet peeves?
Just three? Well then. *huffs*
Heroines who authors describe as beautiful but always claim they're "ugly"–nope. Or, you know, stupid heroines in general.
Manipulative love interests. (I'm looking at YOU, Jules! Haha!) So Morpheus and Warner… Go die. And "bad" boys… Lol, no thanks. I'd take the best friend any day.
Artsy writing. I know a lot of people like those descriptive, poetic, "beautiful" writing, but most of the time they are not for me. I easily get bored with them.
2. Describe your perfect reading spot.
The freezer. I kid, I kid. The couch, basically.
3. Tell us 3 book confessions.
I am easily swayed by the hype & pretty covers to purchase/read a book. And I am not ashamed.
My mom thinks it's weird that I read romance novels. No idea why. Maybe it's because I hate romantic movies…
I don't like to read contemporary/realistic fiction novels without romance. I find them kind of boring, if we're being honest here.
4. How many books are on your bedside table?
If the space beside our television counts as a beside table, then five.
5. What is your favorite snack whilst you are reading?
Mostly marshmallows, or anything tiny and chewy. I don't like getting grease on a book's pages so I avoid eating chips while reading.
6. Name 3 books you would recommend to everyone.
HOW COULD I POSSIBLY JUST CHOOSE THREE BOOKS? Fine, I'll cheat and name three series.
The Hunger Games trilogy by Suzanne Collins
The Percy Jackson and the Olympians series by Rick Riordan (Currently trying to get my brother to read these)
The Legend Trilogy by Marie Lu (I've already pushed this onto 3 people! Horray!)
7. Show your favorite bookshelf on your bookcase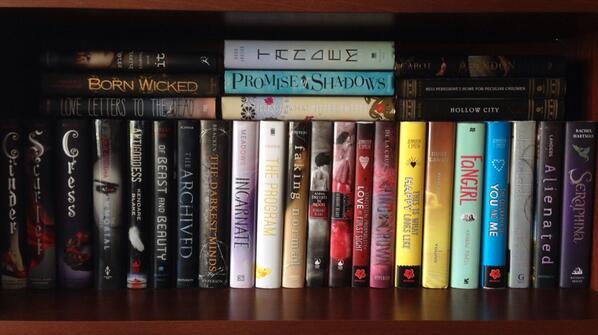 Look at my pretty hardcovers! (Most of my other shelves are paperbacks, so this is my favorite. And it's the most organized.)
8. Write how much books mean to you in just three words.
I love them.
9. What is your biggest reading secret?
I read half of Fifty Shades of Gray. But my Filipino bloggy friends already know this. Mwahaha!
The Chocolate Book Tag
Comparing books to different types of chocolate. Yum. I was tagged by Miguel @ The Quirky Reader. Thanks Miguel! Book-choosing tags are difficult, so I usually just pick something from my recent reads!
1. Dark Chocolate – A book that covers a dark topic. (abuse, domestic violence, rape, loneliness, bullying, death etc)
I pick Addicted to You by Krista Ritchie and Becca Ritchie. This one covers two very dark topics: sex addiction and alcohol addiction. Although the first one doesn't seem very realistic, I still think that these are both problems at have to be dealt with properly.
2. White Chocolate – Your favourite light hearted/humorous read.
I don't have a favorite, really, but for now I'll go with Ask Again Later by Liz Czukas. The heroine is cute. The hero is cute. All their friends are cute! The cover alone already screams light hearted and humorous, right?
3. Milk Chocolate – A book that has a lot of hype that you're dying to read.
I'll have to say Talon by Julie Kagawa. Technically there aren't any raving reviews yet (I think ARCs aren't being mailed around yet), but the blogosphere is buzzing with excitement for this one!
4. Chocolate with a Caramel Centre – Name a book that made you feel all gooey in the middle while you were reading it.
Pivot Point/Split Second by Kasie West definitely made me very gooey on the inside. Because, uh, Trevor. Duh.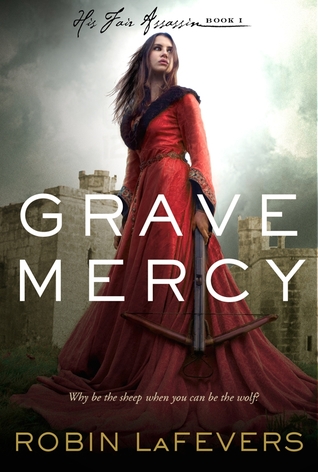 5.Wafer Free Kit Kat – Name a book that surprised you lately.
I just finished Grave Mercy by Robin LaFevers and I didn't expect to love it as much as I did. I tried reading it a few years back and DNFed it after a few chapters, so I was definitely surprised when I ended up loving it the second time around!
6. Snickers – A book that you are going nuts about.
STOLEN SONGBIRD BY DANIELLE L. JENSEN! If you follow the blog regularly, you'll know that this book is on all (I think) of my Top Ten Tuesdays posts recently, because I love it that much. No really, read it.
7. Hot Chocolate with Cream and Marshmallows – What book would you turn to for a comfort read?
I guess Catching Jordan by Miranda Kenneally would be my comfort read. I reread it all the time when I'm in need of some feels.
8. Box of Chocolates – What series have you read that you feel has a wide variety and a little something for everyone?
The Archived by Victoria Schwab has a good variety of things to enjoy: a beautiful world of fantasy, humorous everyday scenes, an adorable romance (kind of) and the perfect amount of mystery and suspense.
And I Tag….
Everyone! I think a lot of people have already done these tags, especially the first one, so I don't really have the energy to check who has and hasn't done the tags. So if you want to do either tag, go ahead. You can say I tagged you! (Seriously, I'm tagging you.)