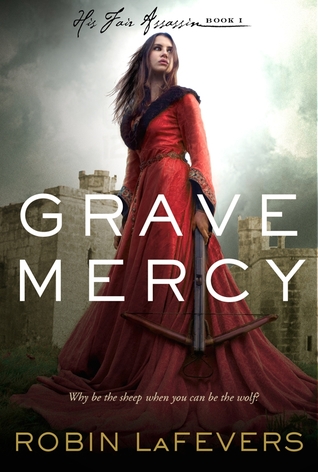 Why be the sheep, when you can be the wolf?

Seventeen-year-old Ismae escapes from the brutality of an arranged marriage into the sanctuary of the convent of St. Mortain, where the sisters still serve the gods of old. Here she learns that the god of Death Himself has blessed her with dangerous gifts—and a violent destiny. If she chooses to stay at the convent, she will be trained as an assassin and serve as a handmaiden to Death. To claim her new life, she must destroy the lives of others.

Ismae's most important assignment takes her straight into the high court of Brittany—where she finds herself woefully under prepared—not only for the deadly games of intrigue and treason, but for the impossible choices she must make. For how can she deliver Death's vengeance upon a target who, against her will, has stolen her heart?
–
This is one of those books that I just had to stay up all night to absorb more chapters. Since I've been with them for more than 550 pages, of course I got really attached to the characters and I found it hard to let the book go.
One of the reasons I enjoy reading historical novels is because of their rich settings and elegant writing. Both were found in Grave Mercy. I absolutely loved everything about the Duval's home and every other place Ismae visited. The writing definitely made it seem as if we were in the past.
Ismae was such a wonderful heroine. She defied others when she thought it was the right thing to do, and she never took shit from anyone. She learned, she tried. She never (at the beginning, at least) questioned the convent, which I found to be realistic. Sometimes, people do believe without questioning.
I felt like Grave Mercy had a little bit of everything. There was definitely a good amount of action, a bit of interesting politics and an endearing romance.
Speaking of romance, Duval was such an amazing love interest. I adored how he was very protective and also intelligent. He thought up the plans, loved his siblings dearly and never let other people bring him down. He and Ismae just had some wonderful chemistry and I loved them to bits.
I also loved the assassin-related things in the novel. We learned about poisons (Poison Study, anyone?), different killing techniques and all that. It was very interesting how Ismae could see when someone was about to die, and how that person was going to go. I definitely don't want to get into Mortain's bad side.
So generally, Grave Mercy was a well-balanced novel which I would recommend to fans of Maria V. Snyder or anyone who simply wants an engaging historical romance novel–with assassins.
4 skulls
Let's discuss! Have you read this book? If you have, what did you think of it? If you haven't, will you be picking it up anytime soon?