If you're from the Philippines, then you would have heard about the Mafi/Riggs/Rossi signing at some point within the last month, right? Well, it happened yesterday! Honestly, I wasn't completely satisfied with the event. I mean, it was totally awesome to see these three up close and meet some blogger friends, but there were so many things to rage about as well!
Registration was supposed to start at 10 in the morning and Dyan and I got there at around 9:30, and there was already a line of 500 people. Okay, no biggie. I only had 3 books to carry at that time (I purchased more in the event) so it wasn't heavy or anything.
Trivia: Did you guys know the first girl to get there arrived at 1:54 in the morning? I salute you, lady.
The signing was supposed to start at 2 pm, so Dyan and I got seated around the stairs at around 1 pm to wait. And wait. And wait. The actual signing started at around 3:30. Well, that's the Philippines for ya. There was this interview thing in which I didn't hear anything because of the really bad sound system and everyone screaming every time and author says one sentence. I love other dedicated readers, really. But I would've even joined you if you screamed AFTER the interview. Thanks.
At #506, I got my books signed at, say, 5:30 or so? I was mentally screaming since I would finally get to talk to some awesome people. But it didn't go the way I planned.
First I got to get Shatter Me and Unravel Me signed by Tahereh Mafi. I really wanted to say something about how much I hate Warner, but I don't think that would be a good idea. So I stayed quiet and really regretted it after. And I was PISSED at the person who took our photo. Dude, the LIGHT. I can't even see Mafi's face and I look like a haggard. But we were only allowed ONE PHOTO EACH AUTHOR. NO RE-DOS. *flips table* *cries*
And then I got to meet Veronica Rossi, who was much more of a upbeat person, I think. She really tried to talk to each and every person who came up to her, and that was really nice, so I did get to chat with her a little bit. But still. THAT PHOTO. My face is huge.
Lastly, I got to meet Ransom Riggs, who was very, very tall. And handsome. (And, according to Dre @ Sporadic Reads, has gorgeous eyes. In which I agree.) Plus this is my only decent-ish-but-not-quite photo. I got to talk to him, but just a bit.
And of course I got to meet up with some bloggy friends. First photo from Irish @ Nocturnal Reader, and the second from Ella @ The Filipina Booknote. :)
My babies!: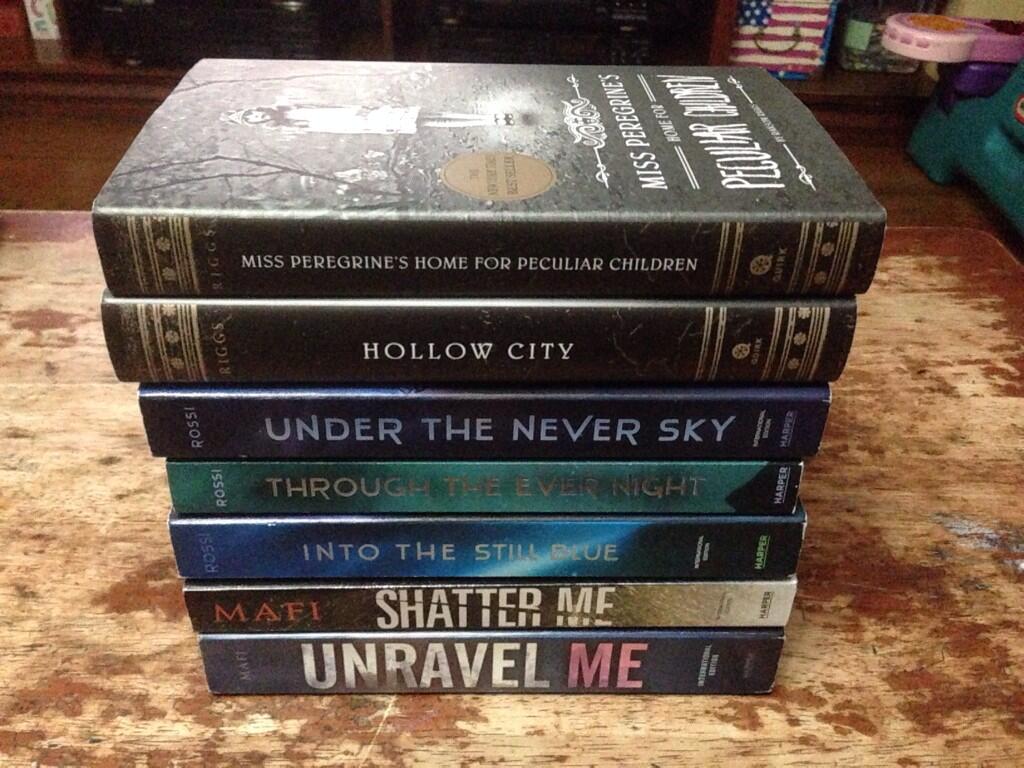 But seriously. There are a bunch of things National Bookstore could improve in their future signings:
The sound system sucked. I didn't hear anything from the interview and could barely hear the numbers being called on for the signing.
I really wanted to at least talk to the authors a bit. I wasn't just there for the signatures, you know. I would've wanted my presence to be acknowledged.
MORE CHAIRS, PLEASE. My back and butt ached by the time I got home. Not good.
LET US RE-DO PHOTOS IF THEY LOOK LIKE SHIT, AND LET US TAKE A GROUP PHOTO IF THERE'S MORE THAN ONE AUTHOR. Please and thank you.
But the highlight of my day was basically when Jules @ Jules Bookshelf told me that Tahereh and Ransom were married. MARRIED. How could I not have known that?
Thanks for the awesome time, Dre, Kate, Jules, Nix, Ella and Irish! I kept thinking about The Grudge last night and it's all your faults! But I really hope Faye can join us next time.
Anyway, it was both a good and bad experience (my body hurts and I don't even want to stand–it was like a free work out), but now that I know what goes on in a book signing, I'll be prepared for next time. (Jenny Han/Stephanie Perkins signing, anyone?)